'Awkward' Labelmates: EXO's Kai & Red Velvet's Wendy Adorably Interact In Recent Show!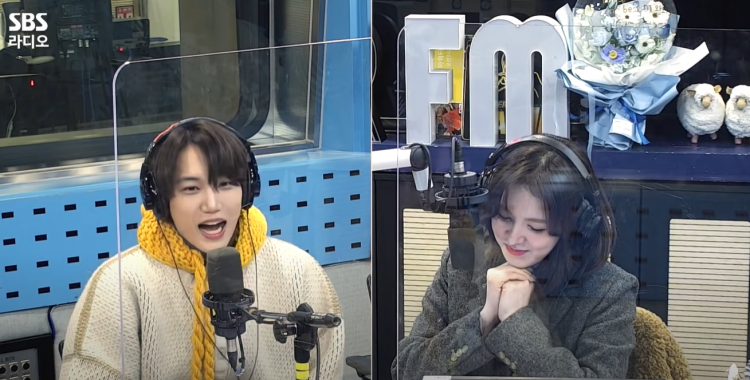 Who would have thought that being labelmates does not guarantee immediate closeness among K-pop idols? Netizens and fans were recently surprised to find out that Red Velvet's Wendy and EXO's Kai are not that class despite being under SM Entertainment for a while now.
This was evident on the December 2 episode of SBS POWER FM's radio show "Young Street," where Red Velvet's Wendy is the host and EXO's Kai was featured as a guest.
Prior to the proper beginning of "Young Street," both Red Velvet's WENDY and EXO's Kai bowed to one another as soon as the "Peaches" singer walked into the radio booth. Adorably, the two bowed to one another multiple times, and hilariously, they even got down on their knees.
READ: 'Peaches,' Solo Concerts & Activities, & More: EXO's Kai Spills The Tea During Press Conference!
It was later revealed that it was their first time properly speaking to one another despite being under SM Entertainment for more than 8 years and being the same age.
EXO's Kai and Red Velvet's Wendy shared, "We've only said hi to each other when walking by, or say things like, 'Good job today'."
EXO's Kai added that he believed it was their first time being in the same room for more than 10 seconds. The EXO member further explained that although the two are like family, he feels like Wendy is his most distant cousin.
Red Velvet's Wendy added that she felt the same way and that they have spoken to one another more on SBS POWER FM's "Young Street" compared to the last eight years under SM Entertainment.
READ: Did Wendy Spill The Tea About Red Velvet's Contract Renewal?
Although Red Velvet's Wendy and EXO's Kai were obviously initially nervous about conversing with one another, the two immediately overcame the anxious tension as the two seem to have similar fun energies.
© 2022 Korea Portal, All rights reserved. Do not reproduce without permission.
Tags:
kwave
,
kwave news
,
kwave updates
,
Kpop
,
kpop news
,
Kpop updates
,
SM
,
SM artists
,
SM Entertainment
,
SM Entertainment artists
,
SM Town]
,
SM Entertainment Red Velvet
,
SM Entertainment EXO
,
SM Entertainment Kai
,
SM Entertainment Wendy
,
SM Entertainment Red Velvet Wendy
,
SM Entertainment EXO Kai
,
EXO
,
exo news
,
EXO updates
,
EXO Kai
,
EXO Kai news
,
EXO Kai updates
,
Red Velvet
,
Red Velvet News
,
Red Velvet Updates
,
Red Velvet Wendy
,
Red Velvet Wendy news
,
Red Velvet Wendy updates
,
Wendy
,
wendy news
,
Wendy updates
,
SBS Power FM
,
SBS POWER FM news
,
SBS POWER FM updates
,
SBS POWER FM radio show
,
SBS POWER FM radio show news
,
SBS POWER FM radio show updates
,
SBS POWER FM radio show Young Street
,
SBS POWER FM radio show Young Street news
,
SBS POWER FM radio show Young Street updates
,
SBS Power FM Young Street
,
SBS POWER FM Young Street news
,
SBS POWER FM Young Street updates
,
Young Street
,
Young Street news
,
Young Street updates
,
EXO Kai Young Street
,
Young Street EXO Kai
,
Kai Young Street
,
Young Street Kai
,
Red Velvet Wendy Young Street
,
Young Street Red Velvet Wendy
,
Wendy Young Street
,
Young Street Wendy