BTS Earns 2022 Grammy Awards Nomination, Reunites With James Corden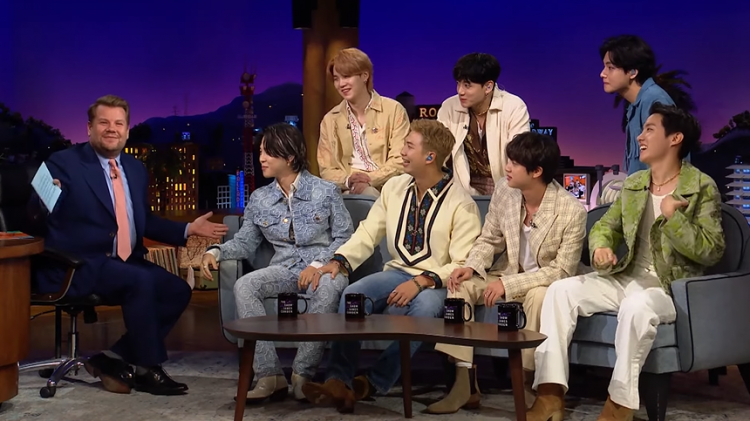 K-Pop superstar boy group BTS presented a special performance on the popular CBS talk show "The Late Late Show with James Corden" in the US.
BTS appeared on the "The Late Late Show with James Corden" on the 23rd and had a pleasant interview with host James Corden.
In an interview with James Corden, BTS shared their thoughts on winning the "2021 American Music Awards" and nominations for the "2022 GRAMMY AWARDS." Corden emphasized BTS' three trophies at the "2021 American Music Awards" held on the 21st.
For the third year in a row, BTS is the AMAs' "Favorite Pop Duo or Group." BTS also went on to win the "Favorite Pop Song" award for their hit song "Butter." The HYBE Label boy group also makes history as the first Asian act in the history of the American Music Awards to snag the "Artist of the Year" award.
READ: BTS Makes History As The First Asian Act To Win 'Artist Of The Year' At 2021 AMAs!
BTS and Corden met in person for the first time in two years and had a pleasant conversation about trivial daily life as well as various feats that BTS recently achieved at the "2021 American Music Awards."
After the interview, BTS heated up the "The Late Late Show with James Corden" with their "Permission to Dance" performance. The stage composition of the concept of the journey from Seoul, Korea to Los Angeles, USA, caught the attention of viewers.
The seven members, who started the performance in the background of a hanok, moved to Los Angeles and spread positive energy once again with a free-spirited yet warm choreography. The performance that blows away the regret of not being able to visit the "The Late Late Show with James Corden" studio in person due to the COVID-19 pandemic last year gave viewers a thrilling pleasure.
Meanwhile, BTS was nominated for the award in the "Best POP DUO/GROUP PERFORMANCE" category for the second year in a row at the "2022 GRAMMY AWARDS," the most prestigious music award ceremony in the United States.
The 64th annual Grammy Awards will be held on January 31, 2022, in Los Angeles.
BTS, which is making great achievements at major American music awards day after day, will hold a concert "BTS PERMISSION TO DANCE ON STAGE - LA" at Sophie Stadium in Los Angeles, USA, from the 27th to the 28th and from December 1 to the 2nd.
Congratulations to BTS!
© 2022 Korea Portal, All rights reserved. Do not reproduce without permission.