PLEDIS Entertainment's Update On fromis_9 Lee Chaeyoung's Injury Worries Fans!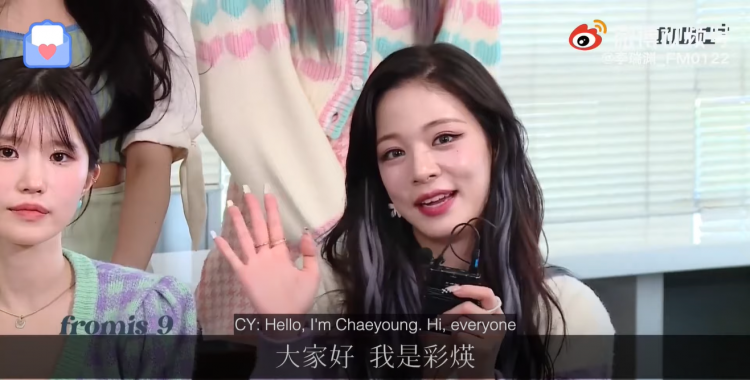 Lee Chaeyoung of fromis_9 has suffered an injury on her ankle and PLEDIS Entertainment, her agency, has just released an update on her current status and her current role in fromis_9 coming activities.
On the 29th of October, PLEDIS Entertainment revealed that Lee Chaeyoung will remain seated in fromis_9's upcoming activities, including the "WE ALL ARE ONE COVID-19" charity concert due to her aforementioned ankle injury.
Read PLEDIS Entertainment's full statement below:
"Hello.
This is PLEDIS Entertainment.
We would like to provide some information on fromis_9 member Lee Chaeyoung's schedule.
On Friday, October 29, Lee Chaeyoung was treated for pain in her left ankle in a nearby hospital. After examination, medical staff offered the opinion that while her daily activities will not be affected, she had suffered a rupture in the ligament in her left ankle region and should refrain from strenuous movement for the time being.
Following medical advice, our company has decided to minimize Lee Chaeyoung's movements in this week's fromis_9 activities. For the V LIVE scheduled for 9 PM Friday, October 29, she will take part while sitting down; for the "WE ALL ARE ONE 2021 K-POP for Overcoming COVID-19" event at 6 PM Sunday, October 31, she will also be performing while seated.
We ask for your understanding.
We will continue to monitor Lee Chaeyoung's recovery as we carefully plan her participation in future activities.
Our company will place our highest priority on artist health and make sure that Lee Chaeyoung is able to focus on treatment and recovery.
Thank you."
Although an ankle injury will most likely hinder a K-pop artist from performing at 100%, with proper care and treatment, this injury can surely be overcome. Fans are now hoping that fromis_9's Lee Chaeyoung will recover well and fast!
Stay tuned for more news and updates regarding your favorite K-pop artists!
© 2023 Korea Portal, All rights reserved. Do not reproduce without permission.
Tags:
kwave
,
kwave news
,
kwave updates
,
Kpop
,
kpop news
,
Kpop updates
,
Pledis Entertainment
,
Pledis Entertainment artists
,
Pledis Entertainment news
,
Pledis Entertainment updates
,
Pledis Entertainment fromis_9
,
Pledis Entertainment fromis_9 Chaeyoung
,
Pledis Entertainment fromis_9 Lee Chaeyoung
,
fromis_9 comeback
,
fromis_9 members
,
fromis_9 Lee Chaeyoung
,
fromis_9 Lee Chaeyoung news
,
fromis_9 Lee Chaeyoung updates
,
fromis_9 Lee Chaeyoung injury
,
fromis_9 Chaeyoung
,
fromis_9 Chaeyoung news
,
fromis_9 Chaeyoung updates
,
fromis_9 Chaeyoung injury
,
Lee Chaeyoung
,
Lee Chaeyoung news
,
Lee Chaeyoung updates
,
Lee Chaeyoung injury
,
Chaeyoung
,
Chaeyoung news
,
chaeyoung updates
,
Chaeyoung injury