'Running Man' 'Debuts' New Group With ITZY's Yeji, WJSN's Luda, And Jun So Min!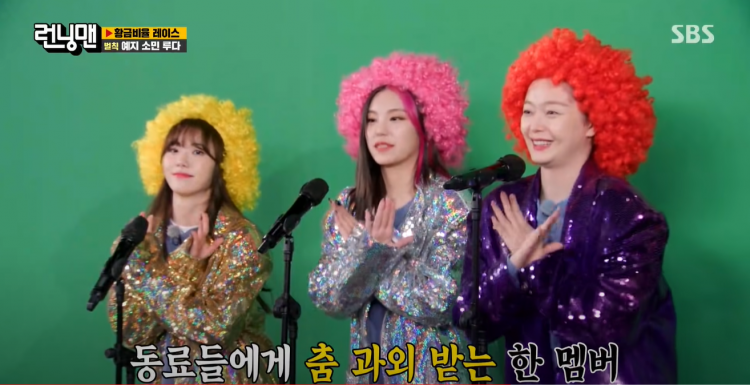 ITZY's Yeji, WJSN's Luda, BIBI, and MC Minzy (aka Jung Joon Ha) were featured as guests in a recent episode of "Running Man," to the delight of fans.
SBS's episode of "Running Man" had the 'Golden Ratio Race' where the cast and guests competed with each other to see who would attain the 'golden' or 'garbage' ratio.
The initial mission was to choose a captain. The captain decides everyone's order from 1st to 11th. The order also chooses the two teams for the upcoming task.
Notably, Kim Jong Kook became the captain and picked the order as Yang Se Chan, HaHa, BIBI, Jung Joon Ha, Luda, Ji Suk Jin, Yoo Jae Suk, himself, Yeji, Jun So Min, and Song Ji Hyo.
After that, the production staff chose number four which means that everyone ranked fourth and above was part of the minority team and the others were in the majority team. The two teams then went head to head in a quiz game where the minority team won!
The second task revolved around speed which was the 'flour blue flag white flag game' and Kim Jong Kook's ability gave the W to the minority team!
The last mission in the race was to cross a stepping stone bridge with half the tiles were solid and half were fake, and the false tiles made the person on top fall in a styrofoam pit. Eventually, the minority team once again pulled away with the victory.
The rankings at the end of the "Running Man" were Kim Jong Kook, Song Ji Hyo, Jung Joon Ha, Ji Suk Jin, HaHa, Yang Se Chan, BIBI and Yoo Jae Suk both tied, ITZY's Yeji, Jun So Min, and WJSN's Luda.
Via a lottery, the production staff chose 8, which meant that every person ranked below 8 had a punishment!
Thus, a surprising girl group was formed when ITZY's Yeji, WJSN's Luda, and Jun So Min put on adorable costumes with wigs and performed as an impromptu group to dance to songs by ITZY, WJSN, and BIBI!
With the challenging and fun games alongside the entertaining punishment, viewers really enjoyed this episode of "Running Man"!
© 2023 Korea Portal, All rights reserved. Do not reproduce without permission.
Tags:
kwave
,
kwave news
,
kwave updates
,
Kpop
,
kpop news
,
Kpop updates
,
SBS
,
SBS news
,
SBS updates
,
SBS Running Man
,
SBS Running Man news
,
SBS Running Man updates
,
SBS Running Man episode
,
Running Man
,
running man news
,
Running Man Updates
,
Running Man episodes
,
Running Man guests
,
ITZY
,
ITZY News
,
ITZY updates
,
ITZY Yeji
,
ITZY Yeji news
,
ITZY Yeji updates
,
yeji
,
Yeji news
,
Yeji updates
,
WJSN
,
WJSN news
,
WJSN updates
,
WJSN Luda
,
WJSN Luda news
,
WJSN Luda updates
,
Luda
,
Luda news
,
Luda updates
,
Kim Jong Kook
,
Kim Jong Kook news
,
Kim Jong Kook updates
,
Song Ji Hyo
,
Song Ji Hyo news
,
Song Ji Hyo updates
,
Jung Joon Ha
,
Jung Joon Ha news
,
Jung Joon Ha updates
,
Ji Suk Jin
,
Ji Suk Jin news
,
Ji Suk Jin updates
,
Haha
,
HaHa news
,
HaHa updates
,
Yang Se Chan
,
Yang Se Chan news
,
Yang Se Chan updates
,
Bibi
,
BIBI news
,
BIBI updates
,
Yoo Jae Suk
,
Yoo Jae Suk News
,
Yoo Jae Suk updates