ITZY's Yuna & Chaeryeong Show Their Chaotic Energy In Recent 'Codename: Secret ITZY 2' Task!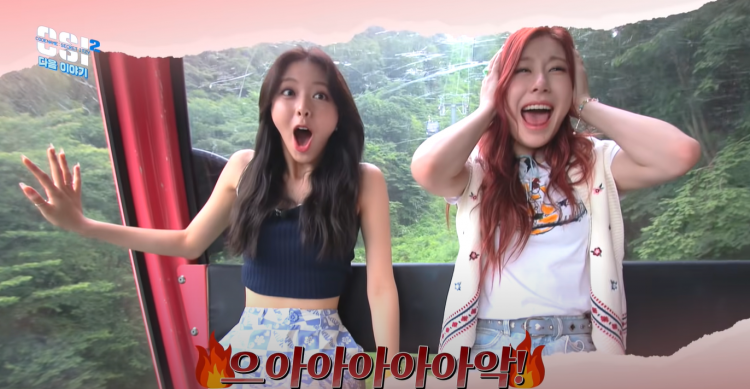 In the most recent episode of "Codename : Secret ITZY 2", ITZY continued its mission of doing tasks. Notably, ITZY's Yuna and Chaeryeong were up next to do the tricky tasks and the task was to ride some luges while answering questions and not spilling water in a cup.
In the task, the two ITZY members showed how different they really are in real life.
Although ITZY's Chaeryeong was unsure in the beginning, she eventually mustered some courage. Initially determined, Chaeryeong immediately changed her tone as the task was not her cup of tea.
MIDZYs found it adorable how Chaeryeong was very indecisive on how she felt regarding the task. At first, she really enjoyed doing it, but one moment later, she would scream that she was really not enjoying it.
Although she realized she had fun, ITZY's Chaeryeong was not that happy as she noticed that almost all of the water in her cup had spilled. Beyond that, Chaeryeong was not aware that she had to finish multiple missions.
On the other end of the table, Yuna, ITZY's maknae, was determined from the start until the end, not thinking twice about getting into the luge. Unlike Chaeryeong, Yuna was aware of the multiple tasks.
Although the two had varying mentalities while doing the tasks, Yuna was greeted by Chaeryeong at the finishing line, the two spilling the tea on what they gathered. Regardless of who did the task better, MIDZYs were happy to see the members of ITZY have fun in the task.
To no one's surprise, ITZY's Yuna was able to bag the win with the help of hints from staff.
After their tasks, Chaeryeong and Yuna made their way back to the other members of JYP Entertainment's ITZY.
The important part of any event was that everyone had fun, and surely, the two members of ITZY, although in varying degrees, were able to have their own fun!
© 2023 Korea Portal, All rights reserved. Do not reproduce without permission.
Tags:
kwave
,
kwave news
,
kwave updates
,
Kpop
,
kpop news
,
Kpop updates
,
JYP
,
JYP artists
,
JYP Entertainment
,
JYP Entertainment artists
,
JYP Entertainment news
,
JYP Entertainment updates
,
JYP Entertainment ITZY
,
JYP Entertainment ITZY CSI
,
ITZY
,
ITZY News
,
ITZY updates
,
ITZY Yuna
,
ITZY Yuna news
,
ITZY Yuna updates
,
ITZY Chaeryeong
,
ITZY Chaeryeong news
,
ITZY Chaeryeong updates
,
ITZY Chaeryeong and ITZY Yuna
,
ITZY Yuna and ITZY Chaeryeong
,
Yuna and Chaeryeong
,
Chaeryeong and Yuna
,
ITZY Codename Secret ITZY
,
ITZY Codename Secret ITZY 2
,
Codename Secret ITZY
,
Codename Secret ITZY 2