Ahead Of Brave Girls' Success, Yujeong Shares Feelings On Insecurities, Depression, & Previous Breakup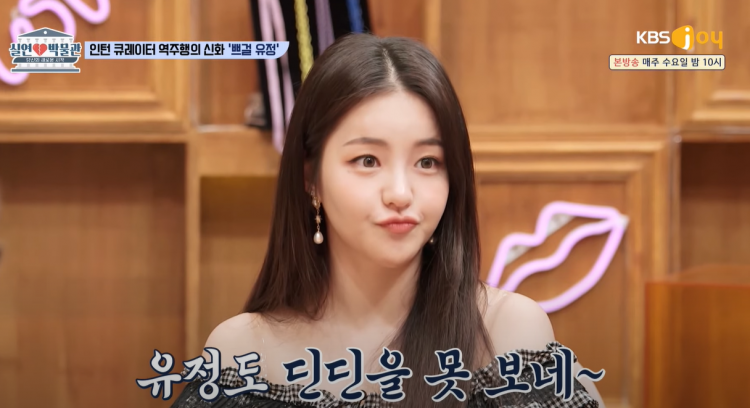 In an episode of KBS Joy's program entitled "Breakup Museum," Brave Girls' very own Yujeong revealed the hardships the K-pop idol had to go through prior to the well-deserved success that Brave Girls tasted this 2021 with their late-blooming hit, "Rollin'."
Yujeong shared that she had gone through her previous entries in her journal on her computer prior to Brave Girls' success. Yujeong explained that before "Rollin'" climbed the charts again, she was worried about a lot of things. So what Yujeong wrote was pretty sad.
"There was a boyfriend that I dated back then, after my debut. Even when we broke up, I thought to myself, 'This happened because I didn't make it as an idol. Because of my current situation, he must have thought I wasn't all that great.' I had a really severe inferiority complex," Yujeong went on to share.
Regarding how difficult it was for her prior to the success of Brave Girls, Yujeong explained that the girls always felt so apologetic to their agency. Even though their albums were not doing well, the agency kept letting them release new ones.
Brave Entertainment kept investing in Brave Girls, but at the time they weren't achieving anything. "A lot of people didn't even know when we were making a comeback. We even said amongst ourselves, 'No matter what we do, we can't seem to catch a break,'" Yujeong added.
It became harder as each of Yujeon's friends started to get jobs and get married and she was still clinging to her old dream during her college years. "It felt like I was making my parents' lives more difficult. I think I was really filled to the brim with low self-esteem back then," Yujeong sadly added.
But now, Yujeon feels apologetic towards her computer because she always used to write down sad thoughts such as her worries and concerns. But as per the K-pop idol, she is happy now. "I even have a brand-new notebook computer," Brave Girls' Yujeong adorably added.
© 2023 Korea Portal, All rights reserved. Do not reproduce without permission.
Tags:
kwave
,
kwave news
,
kwave updates
,
Kpop
,
kpop news
,
Kpop updates
,
Brave Entertainment
,
Brave Entertainment news
,
Brave Entertainment updates
,
Brave Entertainment Brave Girls
,
Brave Entertainment Brave Girls Yujeong
,
Brave Girls
,
Brave Girls news
,
Brave Girls updates
,
Brave Girls Yujeong
,
Brave Girls Yujeong news
,
Brave Girls Yujeong updates
,
Yujeong
,
Yujeong news
,
Yujeong updates
,
KBS Breakup Museum
,
KBS
,
KBS shows
,
KBS programs
,
Breakup Museum
,
Breakup Museum Yujeong
,
Yujeong Breakup Museum
,
Brave Girls Yujeong Breakup Museum
,
Breakup Museum Brave Girls Yujeong