Interested In Becoming A Martian For A Year? NASA's New Mission Is For You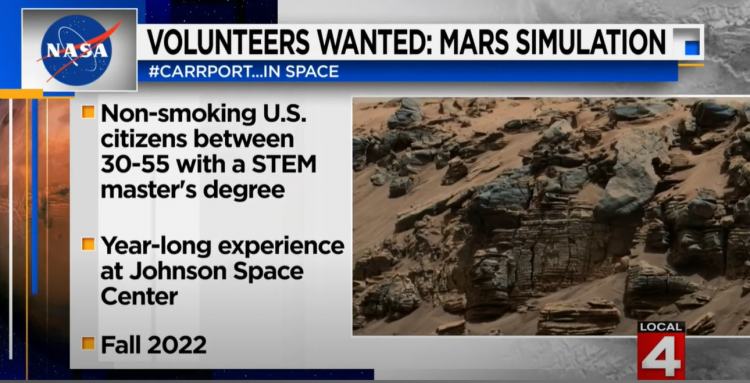 Recently, NASA (National Aeronautics and Space Administration) has begun accepting applications for their upcoming Mars analog mission. The mission will have people live in an atmosphere that is simulated which makes it similar to Mars.
This will help study the physical, emotional, and mental effects of Mars' atmosphere on humans.
Notably, NASA has been doing analog tests for a while now to prepare humans for space flight along with more journeys to the moon. At the moment, some of the available missions include Isolation and Confinement, Bedrest, and Radiation Analog, and many more.
But the most recent analog mission of NASA is called Crew Health and Performance Exploration Analog. This focuses more on the human exploration of the planet Mars. At present, the plan is to have three one-year Mars surface simulation tests.
To be more specific, an analog mission happens with gravity and the participants can be simple citizens. Furthermore, the levels of radiation are going to be normal, there's an immediate emergency exit protocol if problems arise, unlike in space.
To add to this, the selected four crew members for each mission will be in a 3D-printed 1,700-square-foot module that is dubbed Mars Dune Alpha.
The main points of research for the analog mission are going to be Martian surface scenarios such as failure of equipment, communication issues, being able to survive with limited resources, and an environment that causes stress.
This is all preparation for future Mars and Moon missions. The four participants, who will be crew members, have to perform tasks such as simulated spacewalks, using robotic and VR controls, analyzing communication, and doing desired scientific research.
Notably, for people who do not have a resume similar to an astronaut, the aforementioned analog missions are the best chance to experience space life.
Interested? You can apply here.
© 2021 Korea Portal, All rights reserved. Do not reproduce without permission.
Tags:
US
,
US news
,
US updates
,
NASA
,
NASA news
,
NASA updates
,
National Aeronautics and Space Administration
,
National Aeronautics and Space Administration news
,
National Aeronautics and Space Administration updates
,
Mars
,
NASA missions
,
NASA analog missions
,
Moon
,
NASA Mars
,
nasa moon
,
Crew Health and Performance Exploration Analog
,
NASA Crew Health and Performance Exploration Analog