Nintendo Announces Latest Version of Nintendo Switch, Here's What We Know So Far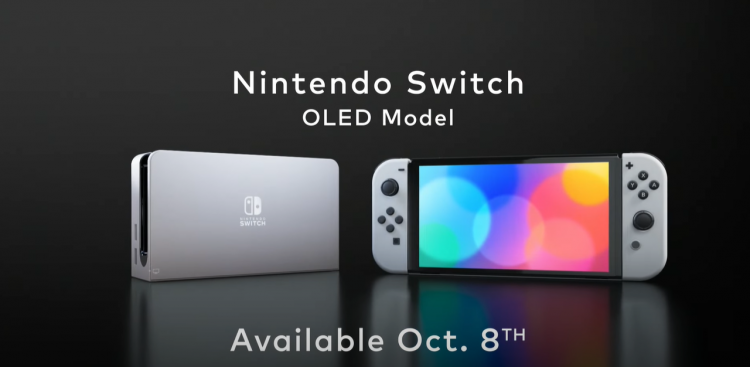 The Nintendo Switch will have a brand new edition to their family as the latest edition of Nintendo's state of the art handheld-console fusion has been announced. Officially launching on the 8th of October this year, Nintendo will be dropping the Nintendo Switch (OLED model).
Notably, the features such as the CPU and GPU, video output, audio output, USB connector, headphone, and mic jack, game card slot, microSD card slot, sensor, operating environment, internal battery, battery life, and charging time will be similar to the Nintendo Switch version 2.
The differences are seen in storage (OLED version having 64gb internal memory compared to the Nintendo Switch's 32gb), the screen (OLED version being 0.8 inches longer), the weight (OLED version being 0.05 lbs heavier), and the size (OLED version being 0.1 inches longer).
Most notably, the main difference being the new OLED screens compared to the old LCD screens. OLED screens use independent-illuminated pixels, while LCD screens use background light to display images.
This means that for an OLED screen, each pixel has its own "background light," making it render its light and color independently.
Moreover, the Nintendo Switch (OLED version) will have an adjustable stand that fits the whole back of the unit, a dock that has a wired Ethernet port, and better audio from the latest version's internal speakers.
But have no fear, Nintendo revealed that previous released Joy-Cons will be compatible with the new OLED model, and that the new OLED version will be able to run the complete library of Nintendo Switch games that are already out.
To add to the hype, Nintendo said that the new OLED version will come in two color combinations; a version with white Joy-Cons and a white dock, and another version with traditional red and blue Joy-Cons and a black dock.
The Nintendo Switch (OLED version) starts selling at $350 dollars (approximately 398k Korean Won).
Will you get the new version when it drops on the 8th of October?
© 2023 Korea Portal, All rights reserved. Do not reproduce without permission.