Netizens Shocked At The Impact Girls' Generation's Taeyeon Had On Brave Girls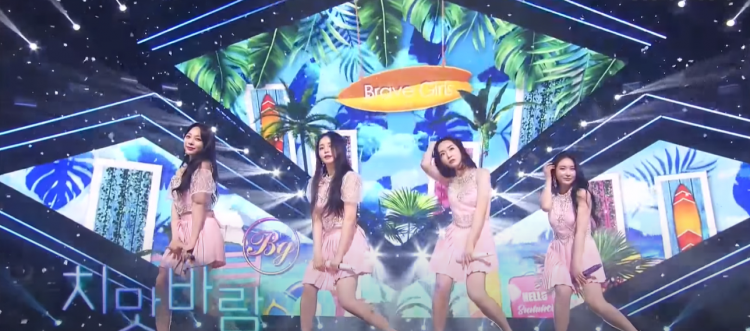 The K-pop industry has been active for quite some time now. Thus, it has reached a point where K-pop icons that were bred from earlier generations have greatly impacted present and budding K-pop idols.
Moreover, in the K-pop industry, confidence goes a long way in performing well. This was recently evident as one of the hottest K-pop girl groups to date admitted how a K-pop icon boosted their confidence.
In a recent episode of tvN's popular show, "Doremi Market" which broadcasts every Saturday,
members from Brave Entertainment's Brave Girls, Minyoung and Yujeong, were featured on the tvN show.
This particular episode of tvN's "Doremi Market," the two Brave Girls members shared how one show member impacted their careers and gave them confidence within themselves.
The special show member was none other than Taeyeon, leader and main vocalist of the legendary K-pop group, Girls' Generation. Brave Girls' Minyoung expressed that in 2016, Brave Girls were not confident with the concept that needed them to wear leggings.
At that time, the members of Brave Girls were fated to meet Taeyeon backstage in the waiting room. When this happened, the Brave Girls members were given words of encouragement from Taeyeon as they gifted the Girls' Generation leader their album.
The Girls' Generation leader shared that in her opinion, she believed that their outfits were amazing and that the Brave Girls' track was great.
With what Taeyeon said, Brave Girls' Minyoung revealed, "Her words gave us a lot of strength."
Taeyeon went on to recall, "I already liked this group and wondered why people were just now noticing them."
"I was watching Brave Girls and it reminded me of Girls' Generation's 'Into The New World'. They looked great as they practiced hard in training suits," Taeyeon continued.
Some people would say that meeting your idol is one of the worst things you can ever do. But for Brave Girls, meeting and hearing the words from Taeyeon meant the world to them.
© 2023 Korea Portal, All rights reserved. Do not reproduce without permission.
Tags:
TvN
,
tvN news
,
tvN updates
,
tvN show
,
tvN shows
,
tvN Doremi Market
,
Brave Girls tvN Doremi Market
,
tvN Doremi Market Brave Girls
,
Doremi Market
,
Doremi Market news
,
Doremi Market updates
,
Brave Entertainment
,
Brave Entertainment news
,
Brave Entertainment updates
,
Brave Entertainment artists
,
Brave Entertainment Brave Girls
,
Brave Girls
,
Brave Girls news
,
Brave Girls updates
,
Brave Girls Minyoung
,
Brave Girls Yujeong
,
Minyoung
,
Yujeong
,
SNSD
,
SNSD Taeyeon
,
Girls' Generation
,
Girls' Generation Taeyeon updates
,
Taeyeon