Let's Try: Korean Beef Bulgogi Burgers!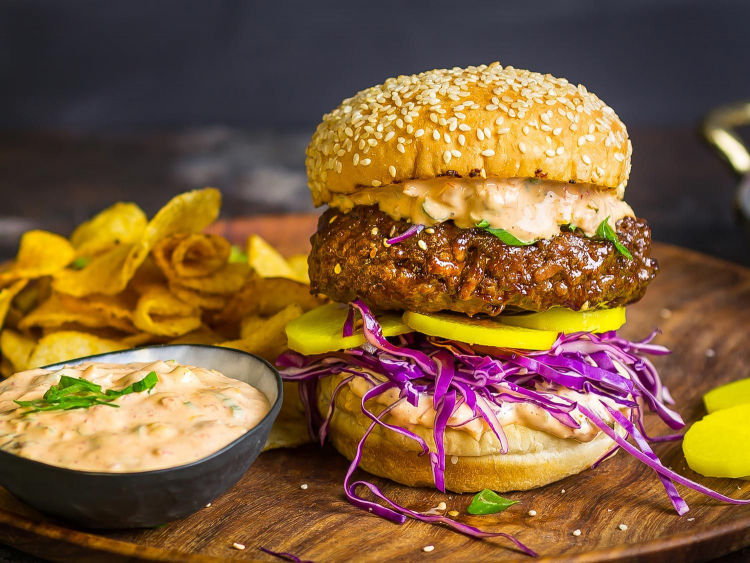 Craving for a burger but Korean style? We recently stumbled upon Korean Beef Bulgogi burgers that are just so yummy that we just have to share. Inspired by the many recipes we have seen online, here is how you make your own Korean Beef Bulgogi Burgers!
Start placing some key ingredients in a bowl. Mix some sesame oil, soy sauce, red pepper flakes, brown sugar, a slice of bread, garlic, and ginger. Let it sit for a couple of minutes and use a fork to mix them all until it turns into a smooth paste. In the same bowl, place in your ground beef and scallions. Use a hand mixer or manually mix everything well.
Once that is done, roll a part of the mixture into a loose ball and place it on a tray placed with tin foil. You can make a 3-5 equal portions of beef patties.
Head up the pan or your grill rack. If you're using a grill rack, don't forget to coat it with cooking spray. Carefully place the burgers and let them cook for 2-4 minutes inside. You can actually cook it longer-it's all up to you.
While the burgers are grilling, you may slowly make the sauce for your burgers. In a separate bowl, mix in Asian chili sauce, mayonnaise, and sugar. You can adjust the ingredients to your liking. Before preparing the burgers for plating, be sure to toast your burger buns for a minute or two in the pan or grill. Now place the burger patty on top of the bottom burger bun. Add some fresh lettuce then the sauce. You can add in more ingredients to make your burger unique. Serve it with some chips or some kimchi on the side, and pair it off with your favorite drink.
Hope you enjoy your Korean Bulgogi Burgers! We have more Korean food recommendations up our sleeve so be sure to stick around!
© 2023 Korea Portal, All rights reserved. Do not reproduce without permission.