ITZY: Deadly On Stage, Charming On TV, Slays In "Knowing Bros" Latest Episode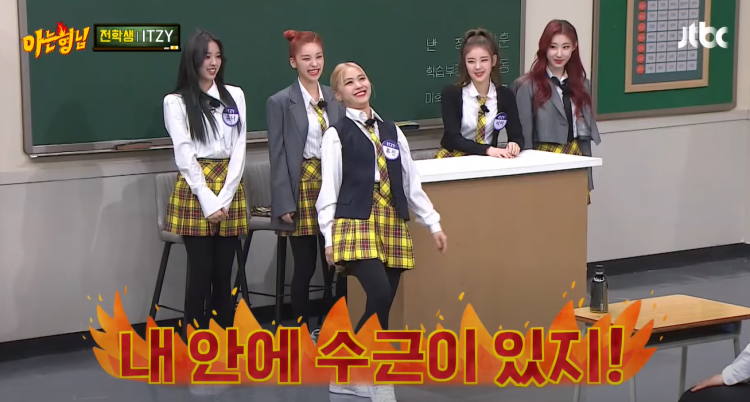 On the 30th of April, JYP Entertainment's ITZY dropped their latest mini-album, "GUESS WHO," which signified their comeback.
ITZY's Yeji, Lia, Ryujin, Chaeryeong, and Lia once again took the world and their fans by storm with the 6 track mini-album. ITZY's title track, "마.피.아. In the morning" aka "Mafia in the Morning," led the way as its music video also dropped on the 30th of April.
Currently, ITZY's "마.피.아. In the morning" has 41.493 million views, 1.8 million likes, and 231 thousand comments which is a great sign for the music video and the girl group.
JYP Entertainment has also dropped teasers earlier than usual for ITZY's "GUESS WHO" to add further attention. Moreover, to garner more hype, ITZY is also slated to appear on multiple variety shows. Their most recent appearance being on "Ask Us Anything," also known as "Knowing Bros."
On the 1st of May, the latest episode of "Ask Us Anything" or "Knowing Bros" featured ITZY. The girls made their highly-anticipated return to the variety show, and they once again had a lot of fun.
Not only did ITZY perform the dance of "Mafia in the Morning," but they also performed a medley of their popular songs. ITZY also showcased their individual talent and skills on "Knowing Bros."
Notably, ITZY's Ryujin performed amazing dance covers of multiple K-pop hits. Ryujin swished and swatted to SuperM's "Tiger Inside," SHINee's "Don't Call Me," and 2PM's "My House." She also showcased her strength by carrying both Yuna and Lia on her back.
Lia, the main vocalist of ITZY, then went on to melt the hearts of viewers and hosts as she sang her heart out to "Can't Take My Eyes Off You."
The leader of ITZY, Yeji, then dropped the jaws of everyone by dancing to Pia Mia's "Princess" and Bishop Briggs's "River."
Moving forward, ITZY will be featured in multiple other shows and interviews. Stay tuned for more updates!
© 2023 Korea Portal, All rights reserved. Do not reproduce without permission.
Tags:
Ask Us Anything
,
Knowing Brothers
,
ITZY ask us anything
,
ITZY knowing bros
,
Knowing Bros ITZY
,
Ask Us Anything ITZY
,
kwave
,
kwave news
,
kwave updates
,
Kpop
,
kpop news
,
Kpop updates
,
Variety show
,
Knowing Bros
,
Knowing Bros
,
Knowing Bros updates
,
Ask Us Anything news
,
Ask Us Anything updates
,
JYP
,
JYP artists
,
JYP Entertainment
,
JYP Entertainment news
,
JYP Entertainment updates
,
JYP Entertainment ITZY
,
ITZY
,
ITZY News
,
ITZY Comeback
,
ITZY variety show
,
ITZY show
,
itzy videos
,
ITZY Guess Who
,
Guess Who
,
Guess Who ITZY
,
Mafia In The Morning
,
ITZY Mafia In The Morning
,
ITZY Yeji
,
ITZY Ryujin
,
ITZY Lia
,
ITZY Chaeryeong
,
ITZY Yuna
,
yeji
,
Yuna
,
lia
,
Chaeryeong
,
Ryujin