'Minari' Actress Youn Yuh Jung Makes History At The '27th Annual Screen Actors Guild Awards'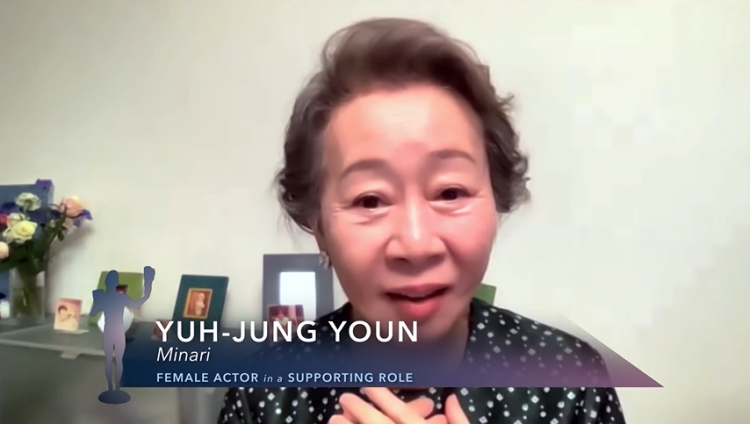 On April 4, Screen Actors Guild- American Federation of Television and Radio Artists presented the "27th Annual Screen Actors Guild Awards." The awards ceremony honored actors, movies, and shows in the past year. All in all, the award-giving body announced the winners in 13 categories.
Among the movies that were nominated for various categories was "Minari." The cast of the South Korean movie was nominated for "Outstanding Performance by a cast in a motion picture. In addition, "Minari" lead actor Steven Yeun was nominated for "Outstanding Performance by a male actor in a leading role," while actress Youn Yuh Jung was nominated for "outstanding performance by a female actor in a supporting role."
Out of the three nominations, "Minari" won one. Youn Yuh Jung bested four other actresses and went on to win the "Outstanding Performance by a female actor in a supporting role." The 73-year-old actress makes history as the first Asian woman to win in any of the motion picture categories in the annual "Screen Actors Guild Awards."
Because of this win at the SAG Awards, the hopes are high for Youn Yuh Jung at the upcoming "93rd Academy Awards" where she is nominated for "Best Supporting Actress."
The most pure reaction from #YuhJungYoun #sagawards @MinariMovie pic.twitter.com/r1qANEuv1E — SAG Awards® (@SAGawards) April 5, 2021
"I don't know how to describe my feelings, I'm being recognized by Westerners. Oh, it is very, very honored. Especially by my actor fellow, choose me as a supporting actress. I don't know. Am I saying right? My English is not good? I'm very pleased and happy. And thanks to SAG-AFTRA. I'm sorry, everything is not familiar. Thank you so much. Thank you, Olivia, and Glenn Close, Maria [Bakalova], and everybody. Thank you," actress Youn Yuh Jung expressed.
In "Minari," Youn Yuh Jung plays the character of Soon Ja, the eccentric grandmother of a Korean family that moved to Arkansas in the 1980s and started a farm.
Since its release, "Minari" has been breaking borders and has received numerous distinctions. Meanwhile, expectations are high for "Minari" to do well in the upcoming Academy Awards.
© 2023 Korea Portal, All rights reserved. Do not reproduce without permission.