US: North Korea's Missile Launch Not A Violation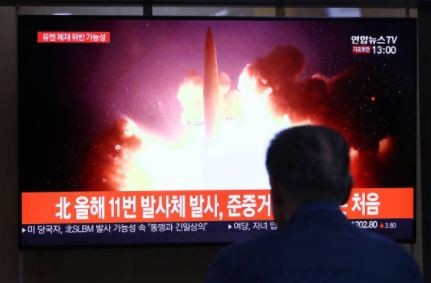 United States President Joe Biden said that nothing changed despite North Korea's missile launch on Sunday, as the US senior officials said that the launch did not violate UN Security Council resolutions in a statement on Tuesday.
The North accordingly fired two cruise missiles in the country's west coast on Sunday, according to military sources in Seoul.
Cruise missiles are not subject to sanctions by the UN Security Council resolutions, unlike ballistic missiles. North Korea has been maintaining a self-imposed moratorium for testing nuclear and long-range missiles since late 2017.
United States senior officials had confirmed that the latest launches were not a violation of UN resolutions. U.S. officials said that the head of Washington would continue its engagements to North Korea and called the latest missile launches a part of its "normal testing."
The officials emphasized that while the resolutions of UNSC cover almost all kinds of nuclear and missile activities, the launch of missiles that are short-range by North Korea during the weekend did not fall under the categories included in the UNSC resolutions.
Washington earlier said that it had tried to reach out to the North since mid-February, yet Pyongyang remained unresponsive. North Korea's Choe Son-Hui, first vice foreign minister, said that the country would remain to ignore the United States until they stop their "hostile policy" against Pyongyang.
US President Biden's administration has been making a comprehensive review of its policy on North Korea that Antony Blinken, US Secretary of State, said earlier would lead to a new approach to the recalcitrant North.
The US officials had said that the policy review on North Korea is now in the final stages.
On the other hand, Jake Sullivan, US National Security Adviser, will be hosting his Japanese and South Korean counterparts in Washington next week to discuss the results of the policy review of the US government.
© 2022 Korea Portal, All rights reserved. Do not reproduce without permission.