Led Zeppelin Receives EMP Foundation Award; 'Jimmy Page' Song Wins!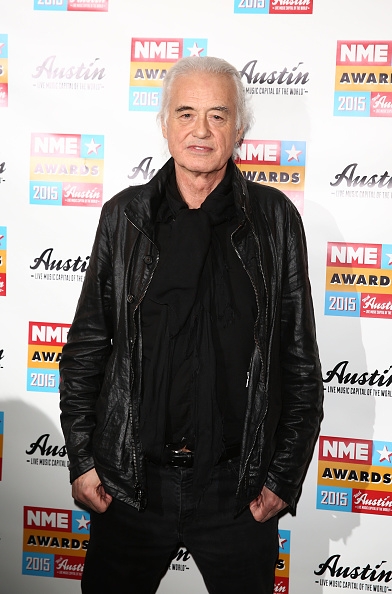 "Led Zeppelin" founder and guitarist, Jimmy Page received the Experience Music Project Founders Award, in Seattle, Thursday, according to Spin.
The benefit concert at the EMP Museum, was held in honor of Page and his five decades as a producer and artist, revealed Rolling Stone.
Ann and Nancy Wilson of "Heart" and Jackson Browne are some of the recipients of the EMP Founders Award in the past.
Iconic musicians including "Alice in Chains'" Jerry Cantrell, William DuVall, Sean Kinney, "Guns N' Roses'" Duff McKagan and "Nirvana's" Krist Novoselic joined forces in song that night.
The lineup also included "Cheap Trick's" Rick Neilsen, "Soundgarden's" Kim Thayil, "Bad Company's" Paul Rodgers and "Mad Season's" Barrett Martin, reported Ultimate Classic Rock.
Jimmy Page joined the musicians onstage when the "Led Zeppelin" song, "Rock and Roll" was played, which was appropriately the night's closing number.
Jimmy Page has just wrapped up his work on "Led Zeppelin" reissues and is looking forward to new projects in the horizon; like new music and a possible tour.
The musician is also looking forward to a more experimental approach to playing guitar.
"I'm known to play in so many different styles and that's what I am, so I just want to get there and just basically reconnect with all of these things and see what happens," hinted Page in a recent interview.
Page, an English musician, is considered as one of the most influential and greatest guitarists of all time.
The multi-instrumentalist began his career as a studio session musician in London, became a member of "Yardbirds" from 1966 to 1968 and then founded "Led Zeppelin".
"Now that all of the 'Zeppelin' stuff has come out, I have the freedom to be able to make new music, manifest new music and be seen to be playing, as opposed to just rumored to be playing," added the guitarist.
The evening's fundraiser for EMP Museum's youth-arts education efforts was a success.
The EMP Museum is a non-profit museum dedicated to contemporary pop culture and was founded by Paul Allen, co-founder of Microsoft.
© 2022 Korea Portal, All rights reserved. Do not reproduce without permission.