WM Entertainment: Oh My Girl Seung-hee Was Harassed By Composer Tank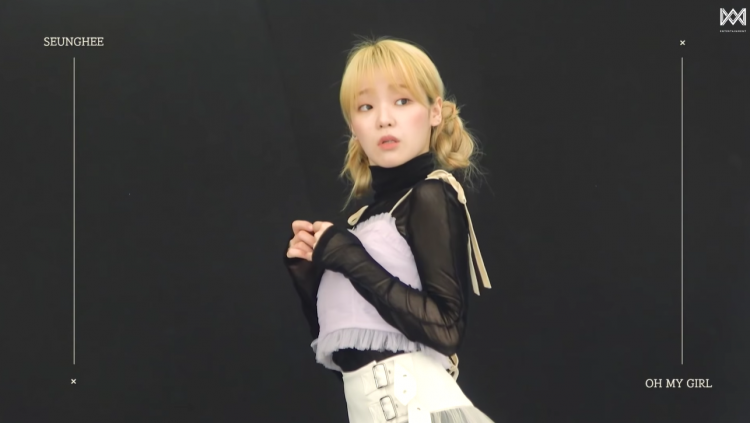 On March 8th, composer and producer Tank released a video on his YouTube channel entitled, "[디스곡] TANK(탱크) - '순이' / [Diss Track] TANK - 'Suni'."
In the diss track, Tank insisted that a girl group member A, unlike her image on TV, was in fact "dirty and impolite." Aside from the malicious lyrics, the diss track video shows a silhouette of a girl whose face was covered. However, fans speculated that the girl on the video was Oh My Girl's Seung-hee.
Because of this, Oh My Girl's Agency, WM Entertainment, stepped forward and announced that they would respond strongly to Tank's claims and even exposed the composer's alleged obsession with the idol.
The agency revealed that Oh My Girl Seung-hee is a victim of harassment from Tank, whose real name is Ahn Jin-woong. The two are reported to have gone to the same high school together.
The whole ordeal began on December 7th when Seunghee and their other high school alumni helped Tank get over an extreme phase. After the incident, Tank was said to begin to believe that Seung-hee was a medicine for him obsessively. This obsession then led to a unilateral courtship, and when Seung-hee did not accept his feelings and turned him down, the composer began to send threats towards the idol and even uploaded a diss track. In addition, Seung-hee's agency revealed that Tank has been harassing not only Seung-hee but also acquaintances and other artists by sending videos and messages that routinely hint at extreme choices and appeal to mental distress.
Tank's extreme behavior and threats towards Seung-hee have made the idol suffer from emotional pain, anxiety, and panic disorder.
Therefore, to protect the welfare of their artist, WM Entertainment promised to take legal actions towards the composer, saying, "We are proceeding with all civil and criminal legal actions, including the spread of false information, threats, and infringement of personal rights, and will respond strictly with the best possible measures without any agreement or preemptive action in the future."
© 2023 Korea Portal, All rights reserved. Do not reproduce without permission.