GOT7 Yugyeom Shares His Favorite Gifts From His '97 line Friends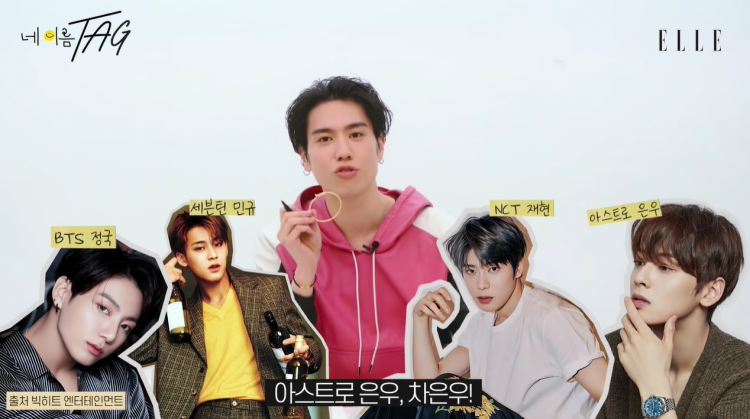 The ever-famous '97 line group in K-Pop has made headlines numerous times already. After all, these idols who were born in 1997 are some of the biggest and hottest names in the K-Pop scene right now, including BTS Jungkook and SEVENTEEN Mingyu, among others.
One of the members of the '97 line group is GOT7's maknae and main dancer Kim Yugyeom, and on February 23th, the 23-year old singer who recently signed with AOMG sat down with ELLE Korea and talked about some of his most treasured belongings in a segment he named himself, "my Name Tag."
From his pair of earphones, which he named "Shred," to his iPhone with a broken screen protector that he named "hammer" because it's always broken, the GOT7 maknae became sentimental as he showed more of his precious belongings.
Yugyeom showed ELLE Korea a bag that was given to him by a fan. He said, "This bag has traveled the most. I received it as a gift from one of my fans. I think it's about five to six years old."
After revealing his sentimental bag, Yugyeom then showed two of his precious bracelets.
The first bracelet was a Cartier Juste Un Clou Bracelet which was given to him by his '97 liner friends, BTS Jungkook, SEVENTEEN Mingyu, NCT Jaehyun, and ASTRO Cha Eunwoo for his birthday. Yugyeom shared that it is a special gift because his friends chipped in to buy it for him. Aside from the Cartier bracelet, he also showed a Gucci one which was given to him by a childhood friend. He calls the two bracelets "97" as both are given to him by his closest friends who are of the same age as him.
The now-AOMG artist also showed his necklace with a triangle pendant, which is a puzzle piece, and when gathered together with other GOT7 members' pieces, it will form the group's heptagon. The triangle pendant boasts a dandelion which is Yugyeom's symbol.
He also showed two watches, one Fendi and the other was a Rolex, which were given to him by Jackson and Bambam, respectively. Bambam is also part of the '97 line.
Watch Yugyeom's full interview with ELLE Korea here:
© 2023 Korea Portal, All rights reserved. Do not reproduce without permission.