Mariah Carey, Ariana Grande, And Jennifer Hudson Dazzle In Elaborate Outfits In 'Oh Santa!' Music Video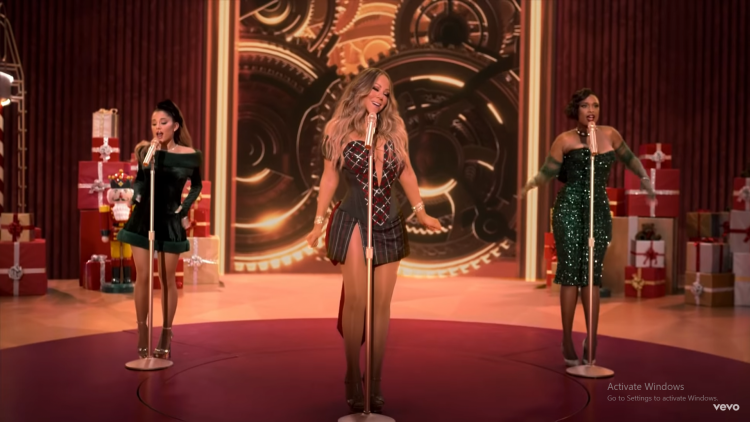 Mariah Carey, who has always become part of Christmas tradition with her holiday-inspired original music and song renditions, has revealed yet another holiday tune together with Ariana Grande and Jennifer Hudson, "Oh Santa!"
In the "Oh Santa!" music video, the set design is making it appear the singers are performing inside Santa Claus' gift factory, with Santa's workers carrying gifts, and dancing in the background. The three singers are wearing elaborate outfits in the colors of Christmas.
Mariah Carey wore a red and black embellished mini-dress, Jennifer Hudson sported an off-shoulder bodycon dress designed with glittering sparkles, and Ariana Grande chose to wear a joyous green, velvet mini-dress.
There are also children who danced in the "Oh Santa!" music video. It has now garnered more than six million views as of press time.
"Oh Santa!" is an upbeat R&B song composed beautifully, yet with a trivial meaning. It is about Mariah Carey pleading Santa Claus to bring back her partner for the Christmas holidays. It is a song from her second Christmas-themed album and her 13th studio album, "Merry Christmas II You." She wrote and produced the music in partnership with Bryan-Michael Cox and Jermaine Dupri.
"I wrote 'Oh Santa!' for my album Merry Christmas II You, which was sort of the follow-up to my first Christmas album -- we have several [Laughs] -- and so I think it was all about the actual event, of course, of doing 'Oh Santa!' with Jennifer and Ari, but it was also like, how do I see this as a producer?" Mariah Carey told Billboard. "How do I see these vocals having different textures, what are they? Because originally, I was blending with myself, which that's kind of one of my favorite things, but it was cool to be able to work with the different vocal textures and play around with it and reimagine it. So that's what happened. And visually, in the special, it really does feel like a girl group moment. I think we all had a good time with it. That was the fun part about it."
© 2023 Korea Portal, All rights reserved. Do not reproduce without permission.