Park Seo Joon Talks About Friendship With Pro Footballer Son Heung Min; Considers The Korean Athlete As His "Sonshine"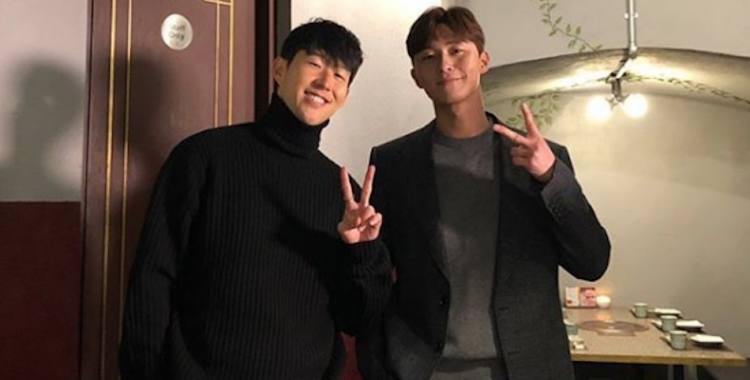 Korean actor Park Seo Joon is one of the few K-drama stars who can strike friendship in different fields. Many know that he is close friends with singer-actor Park Hyung Sik, actor Choi Woo Shik, and BTS member Kim Taehyung. But not known to many, he also hangs out with popular Korean professional footballer Son Heung Min.
In the recent episode of tvN's special documentary, titled Sonsational, Park Seo Jeon and Son Heung Min two talked about their bromance. The documentary special follows the life of Son, who is the captain of Korea's national soccer team and currently plays for Tottenham Hotspur Football Club.
In the episode, Park happens to be in the U.K. for a photoshoot. He watched Son's game in the U.K. and after the match, the two spend some time to catch up with each other.
The What's Wrong With Secretary Kim actor told Son that he saw him scored a goal. He added that since the Premier League is being aired in Korea in the morning, it completes his day if Son scored a goal in the morning. Park then revealed that Son's name on his phone is actually "Sonshine."
"Whenever Heung Min wins or I hear other good news about him, I start my day in a really good mood. So I saved his name as 'Sonshine.' That's the kind of person he is," Park Seo Joon gushed about his friend.
Son Heung Min, on the other hand, talked about how important Park Seo Joon in his life. He said the actor is someone that he can rely on and learn a lot from. Sonsational airs on Fridays at 11 p.m. KST on tvN.
Meanwhile, the new trailer for Park Seo Joon's upcoming movie, The Divine Fury, has been released. The clip opens with Seo Joon's character, Yong Hoo, inside the ring when he suddenly gets furious after he saw a crucifix tattoo on the back of his opponent. He can be heard saying that he hates the symbol as he blames God for the death of his father.
In another scene, Yong Hoo wakes up with a bloody wound on his palm but the doctor couldn't find anything wrong with him. Then he was seen confronting a mysterious woman about the things that are happening to him.
He was given direction to see someone who can help him. Yong Hoo finds Father Ahn (played by Ahn Sung Ki), an exorcist from the Vatican. The priest will help him use his newfound power to fight evil. The Divine Fury opens in cinemas in Korea in July.
© 2023 Korea Portal, All rights reserved. Do not reproduce without permission.