'Suits' Actor Park Hyung Sik Reveals Why BTS's V & Park Seo Joon Are His "Soulmates"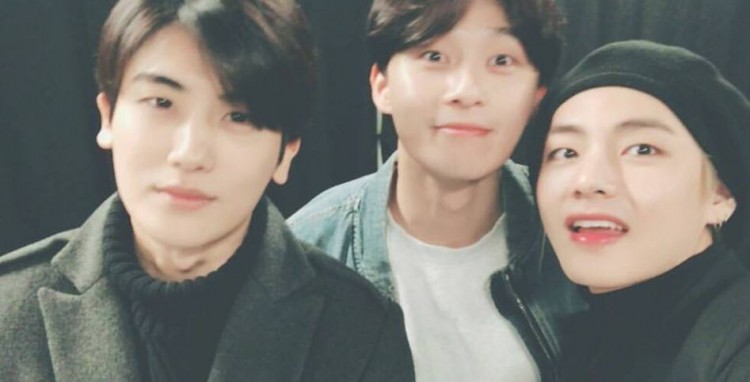 Korean actor Park Hyung Sik is scheduled to start his military service next month. But before he does, he is expected to be received special send off messages from his BFFs particularly his Hwarang co-stars Park Seo Joon and BTS member V.
In a recent interview with the actor for his upcoming movie Juror 8, Park opened up about his friendship with Seo Joon and Kim Taehyung, who is known to many BTS fans as V. Hyung Sik revealed that he considered the two as his soulmates.
The Suits actor explained that he is not the kind of person who gets acquainted with anybody easily but he doesn't want to be alone all the time as well. However, Hyung Sik said it is easy for him to talk or hang out with Park Seo Joon and V.
"When working on projects, you meet people you can get along with. There are people you keep in touch with effortlessly. You could say that the friends I met during Hwarang are like my soulmates.
I end up looking for them all the time. With them, it's easy for me to say 'what are you doing?', 'let's go out to eat', or 'let's go see a movie' without any hesitation," he said.
The three worked together in the K-drama Hwarang in 2016 along with SHINee member Minho, Do Ji Han, and Jo Yoon Woo. The Hwarang boys often show their support to each others project or go on vacation together.
Both Park Hyung Sik and Park Seo Joon frequently attend BTS concert to show their support to their group maknae, V. The two also promoted BTS's latest album, Map Of The Soul: Persona. In return, Taehyung also show his love to his hyungs by sending food trucks to the set of Seo Joon and Hyung Sik's K-dramas.
Hyung Sik has confirmed last month that he will start his mandatory military service on June 10. The 27-year-old singer-actor earlier revealed that he applied to serve as a military police officer and has been accepted to the Capital Defense Command military police.
Before Hyung Sik begins his service, fans are expecting that he will meet his BFFs. Fans are almost certain that Park Seo Joon would spend time with the Strong Woman Do Bong Soon actor while V could probably join the two via video chat if he couldn't make it home in time. BTS is set to have a two-night concert in Paris, France on June 7 and 8.
Meanwhile, Park Hyung Sik's movie Juror 8 is set to premiere on May 15. It is his big screen debut after appearing in several hit K-dramas such as Heirs, Strong Woman Do Bong Soon, and Suits.
© 2019 Korea Portal, All rights reserved. Do not reproduce without permission.