YG Entertainment CEO Yang Hyun Suk Resigns From Post Amidst New Drug Scandal Involvement His Artists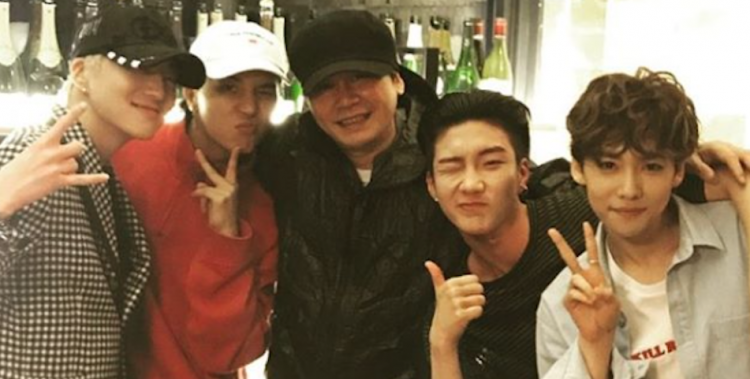 Yang Hyun Suk is done. The YG Entertainment CEO has announced that he has resigned from his post.
In his statement, Yang apologized to the YG artists and their fans as he announced that he is stepping down from all his work in the company. Yang said this is not to cause further harm to artists and fans.
"I have been patiently tolerating words about the current situation that are too disgraceful and humiliating to mention as they have been told indiscriminately as though they are the truth. However, I think it's too difficult now. I think that there can no longer be a situation where YG, our agency celebrities, and fans are experiencing harm due to me," he wrote.
Yang Hyun Suk's resignation came after iKON member B.I has been accused of using drugs. B.I, later on, announced that he is leaving his group. Then it was followed by former YG trainee Han Seo Hee's accusation that her former boss threatened her to change her police statement about B.I drug scandal.
In a recent interview with Han Seo Hee, she revealed that after she got arrested on suspicion of violating the Drug Control Act in 2016, Yang talked to her at his office in the YG building. She claimed that Yang coerced her to change her initial statement with the police about B.I. Yang admitted that he talked to Seo Hee but said he did not threaten her.
Then another YG artist has been accused to be involved in the scandal: WINNER member Lee Seong Hoon. Han Seo Hee claimed Seong Hoon reached out to her in June 2016 and told her that B.I tested positive for drugs in their company's internal drug test.
Meanwhile, many fans are pleased about Yang Hyun Suk's decision to leave YG Entertainment. Many believe that the label needs a major revamp in its management so that the welfare of its artists will be given priority. Others, however, are skeptic if there will be changes in YG if Yang Hyun Suk's brother, Yang Min Suk, will stay in the company as its CEO.
Min Suk himself is facing investigation on suspicion of tax evasion with the club Love Signal, which he reportedly owned with his brother, Yang Hyun Suk. He also answered questions about the controversy involving former BIGBANG member Seungri and the Burning Sun club.
The recent drug scandal that rocks the company has caused YG's stocks to further plummets. As of June 12, YG's stocks are priced at 31,950 won (about $27), which is 4.05 percent down from the previous day trading. The company's stock has been on the downtrend since February following Seungri scandal.
© 2019 Korea Portal, All rights reserved. Do not reproduce without permission.