'My Absolute Boyfriend' Episodes 13 & 14 Spoilers: Ma Wang Joon's Stalker To Hurt His Ex-Girlfriend Um Da Da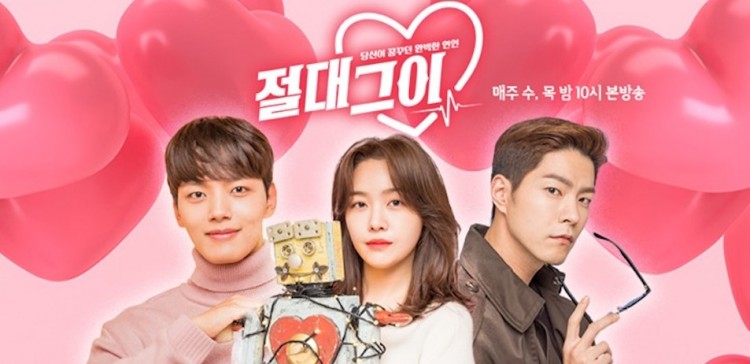 Makeup artist Um Da Da's life will be in danger in the upcoming My Absolute Boyfriend Episodes 13 and 14. Actor Ma Wang Joon's avid fans might hurt Da Da out of jealousy.
In the previous episode of My Absolute Boyfriend, Da Da (Girl's Day member Bang Minah) and her makeup and prosthetic artist crew were hired for the second season of Doctor Alpha Go because of Wang Joon (Hong Jong Hyun). The actor made it a condition to the director of the K-drama.
Then, Wang Joon hired Zero Nine (Yeo Jin Goo) as his new manager while his lady manager, Yeo Woong (Ha Jae Sook) is still recovering from the neck injury she sustained in an accident. Wang Joon hired Zero Nine after the latter told him that he and Da Da went on a love cruise on the night he and his ex-girlfriend are supposed to meet.
Da Da is worried that Zero Nine will be caught that he is not really a human while he works for Wang Joon. Zero Nine, however, promised to her that he will be careful so his secret will remain hidden.
In the teaser for My Absolute Boyfriend Episodes 13 and 14, Wang Joon confronted Zero Nine once again about Da Da. The famous actor told the humanoid that Da Da doesn't love him.
Meanwhile, towards the end of the teaser, Wang Joon's stalker is seen dropping a pot of plant from the upper floor building while Da Da and Zero Nine are passing by. Wang Joong sees the man in the balcony and shouted to warn Da Da of the imminent danger.
It can be recalled that the fan who regularly sends Wang Joon a black box saw the actor talking to Da Da. It was revealed that the stalker is a man and it could be assumed that he gets jealous based on how he clenches his hand when he saw the two talking.
The danger of Wang Joon's fan could be the reason why Zero Nine orders Da Da to stay home so she will be safe from any harm. Will Da Da follows her "boyfriend" or insists to work despite the danger? Will Wang Joon finally revealed to Da Da the true reason why he broke up with her?
My Absolute Boyfriend tells the story of special effects makeup artist Um Da Da, who vowed not to love again after her actor boyfriend breaks up with her, and Zero Nine, a humanoid robot built to become the ideal boyfriend. The new episodes are set to air on June 5 at 10 p.m. on SBS TV. My Absolute Boyfriend airs every Wednesdays and Thursdays.
© 2019 Korea Portal, All rights reserved. Do not reproduce without permission.