New K-Drama 'My Absolute Boyfriend' Drops First Teaser Featuring Yeo Jin Goo & Girl's Day's Minah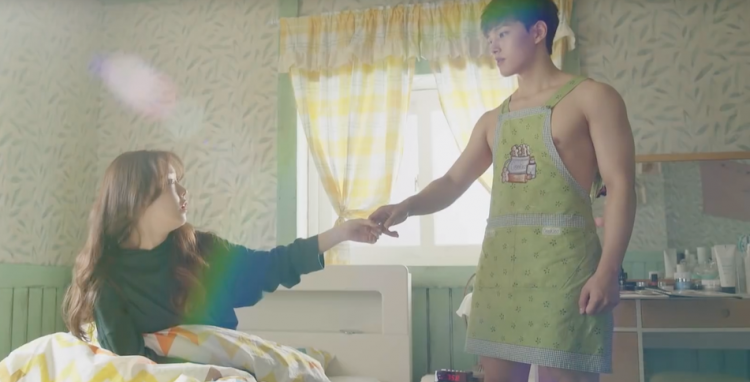 South Korean broadcasting network SBS has dropped the first teaser for its upcoming romantic comedy series My Absolute Boyfriend. It featured lead stars Yeo Jin Goo and Girl's Day member Bang Minah.
My Absolute Boyfriend is based on a popular Japanese manga series of the same name. It tells the story of Uhm Da Da (Minah), a special effects makeup artist who never had much success with love hence she doesn't believe in love anymore. One day, she finds a life-sized action figure, named Zero-Nine/Young Goo (Yeo), in her home. Apparently, the humanoid robot was built to become the ideal boyfriend for her.
The teaser begins in Da Da and Zero-Nine's first encounter. Da Da reaches her hand out to touch the face of the humanoid robot while he is inside what seems to be a robot vault. Da Da thinks it is a mannequin until Zero-Nine falls towards her. Zero-Nine falls on his back while Da Da is on top of him and they end up sharing a kiss.
The robot wakes up and since then, he identifies Da Da as his girlfriend. He follows her around while showing his love and devotion to his "girlfriend." Da Da, on the other hand, tries to push him away as she tells him that love doesn't exist in this world.
Joining Yeo Jin Goo and Minah in the series is Moon Lovers: Scarlet Heart Ryeo actor Hong Jong Hyun and Her Private Life actress Hong Seo Young. Hong Jong Hyun plays the role of famous actor Ma Wang Jun, who always loses his cool around his girlfriend, Da Da. Hong Seo Young portrays the role of Diana, a young heiress who requested an android robot to be made due to her loneliness.
My Absolute Boyfriend is slated to premiere on May 15 at 10 p.m. KST. The K-drama takes the Wednesday and Thursday time slot of Big Issue which is currently airing on SBS.
My Absolute Boyfriend is Minah's small screen comeback after playing the lead role in SBS's romcom Beautiful Gong Shim in 2016. Yeo Jin Goo, on the other hand, is fresh from the success of his K-drama The Crowned Clown. He is also set to portray the lead male character in Hong sisters' fantasy mystery drama Hotel Del Luna alongside Korean singer IU.
© 2020 Korea Portal, All rights reserved. Do not reproduce without permission.