'NCIS: Los Angeles' Season 10 Finale To Reveal Who Wins The Toss Coin Between Harmon & Mac In 'JAG'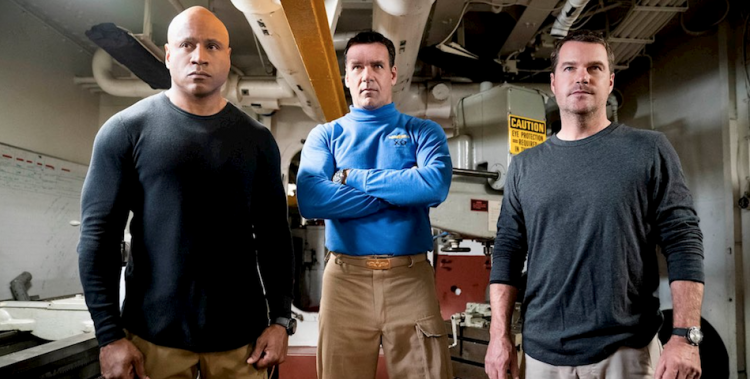 For avid fans of the 90s TV series JAG, this is the time they have been waiting for: to know who won in the toss coin between Navy Captain Harmon "Harm" Rabb Jr. and Lieutenant Colonel Sarah "Mac" Mackenzie. The NCIS: Los Angeles Season 10 finale will give an answer to that.
JAG stars David James Elliott (Rabb) and Catherine Bell (Mackenzie) will reunite in the upcoming season finale of the NCIS spinoff. In the penultimate episode of the series, fans have already seen Elliot in the episode titled, "The Guardian."
In the previous episode, Harm met NCIS LA agents G. Callen (Chris O'Donnell) and Sam Hanna (LL Cool J) aboard the U.S.S. Intrepid to track down a group of ISIS sympathizers. Rabb helped the team to hunt down the terror group that is planning to launch an attack on the US Navy ship.
In the upcoming Episode 24, Elliott will return for the finale episode, titled "False Flag." Meanwhile, Hetty (Linda Hunt) will call Mac to ask for her help get information on a Russian diplomat.
In the preview, Harm and Mac are seen talking to each other via coms. Harm is on board his ship while Mac is at NCIS LA HQ. Fans are hoping that the two will have a face to face meeting before the episode ends especially after NCIS LA showrunner R. Scott Gemmill teased that JAG fans will finally learn who won in the coin flip.
It can be recalled that in the JAG series finale, the Harm and Mac finally got engaged. However, they also agreed that one of them has to resign from their positions. It was known that Mac had been planning to accept an assignment in San Diego, but it was not revealed who won the coin flip.
Gemmill said the finale episode will give a glimpse of how Harm and Mac's lives went through after JAG wrapped up. He also hinted that viewers will see "the best of the past" and what the future holds for Harm and Mac.
Meanwhile, Bell shared a photo with Elliott during the NCIS LA Season 10 wrap party. The snap garnered thousands of likes and hundreds of comments from fans. Many are excited for the upcoming episode while others express how they miss the Harm and Mac chemistry on screen.
"Looking forward to watching it. Always liked Harm and Mac characters. Glad they will be back. Hope they will be back more often," one fan wrote.
There have been rumors that the NCIS: Los Angeles Season 10 finale would also serve as a backdoor pilot for a JAG revival. CBS has yet to comment on the rumor. It did not announce a revival either when it released the list of its new shows for the 2019-2020 TV season. The NCIS: Los Angeles Season 10 finale will air on May 19 at 10 p.m. ET on CBS.
© 2019 Korea Portal, All rights reserved. Do not reproduce without permission.