EXO News & Updates: Xiumin's First Solo Single, Suho Supports EXO-CBX, & Kai Travels To England For New TV Show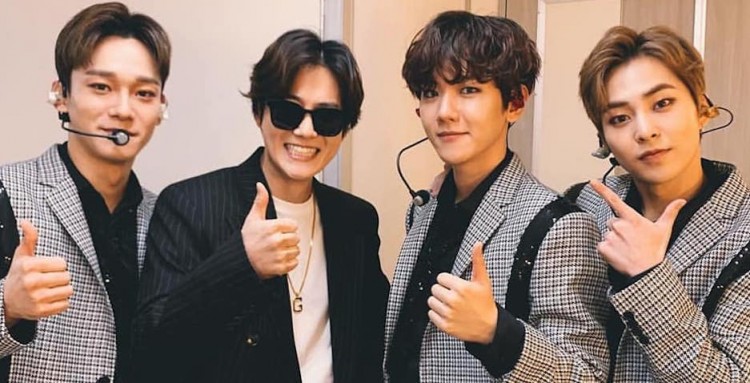 SM Station has dropped a teaser for EXO member Xiumin's first solo single. EXO leader Suho has shown how he supports his bandmates when he attended the last day of EXO-CBX's concert in Japan. Kai, on the other hand, is heading to England to film a new TV show.
SM Station has released a teaser video of Xiumin for his first ever solo single, titled "You." The song is a special gift of Xiumin for EXO-Ls as he is about to start his military enlistment in May. Watch the clip below.
Xiumin along with his fellow EXO-CBX members Chen and Baekhyun wrapped up their Magical Circus 2019 - Special Edition concert in Kobe, Japan on Monday with the presence of their fans as well as bandmate Suho. The group leader shared on Instagram a couple of his photos with Chen, Baekhyun, and Xiumin at the backstage.
He adorably captioned the photo, "EXO-CBX + S" and also wrote "Don't cry" in Japanese. The EXO subunit had a concert series in Japan that started in Saitama on April 16.
The group is set to return to Korea where Xiumin is slated to hold a solo fan meeting ahead of his military enlistment next month. In a letter for his fans earlier this month, Xiumin confirmed that he will start his military service on May 7.
He also promised to hold a fan meeting before his enlistment so he can personally see EXO-Ls before he temporarily steps out of the spotlight. The fan meeting of the 29-year-old idol, titled Xiuweet Time, will be held at the Jamsil Indoor Arena in Seoul.
Meanwhile, EXO member Kai is traveling to England this week along with actress Lee Si Young and actor Kim Soo Ro to film a new variety show for KBS 2TV. The show is titled Let's Go, Man-Soo Ro, which follow Kim Soo Ro's journey as he meets the soccer players that belong to his new football club, the Chelsea Rovers, in England. It will also feature the actor as he learns how to lead his new club as its president.
Trained boxer-actress Lee Si Young and Kai, who has been vocal about his interest in soccer, will accompany Kim Soo Ro on his trip to England. The three will reportedly attend a Premier League game to experience for themselves how passionate English soccer fans are. KBS 2TV has not yet announced a premiere date for Let's Go, Man Soo-Ro.
© 2023 Korea Portal, All rights reserved. Do not reproduce without permission.