'This Is Us' Season 4 Spoilers: Chrissy Metz Offers Hint About Kate & Toby's Marriage In The Future; Teases About "New Wife" For Toby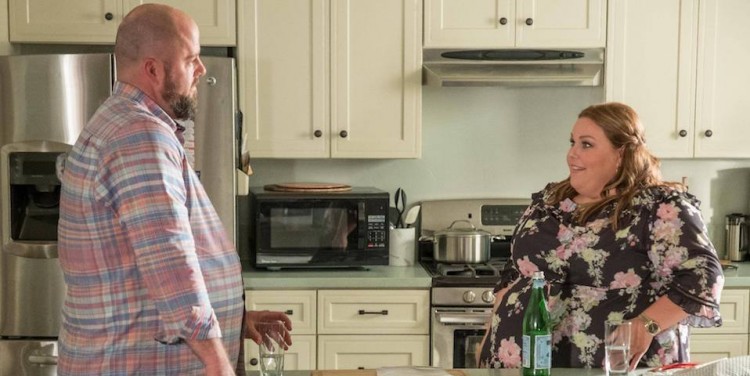 This Is Us fans will have to wait for at least five more months before the questions that were left hanging in Season 3 finale will get answered. But Chrissy Metz offered some hints on what to expect in the next installment particularly in her character's marriage.
In a recent interview with Entertainment Weekly, Metz (Kate Pearson) was asked about who is the "they" that Toby (Chris Sullivan) is referring to in the Season 3 finale. It can be recalled that the third season ended with a flash-forward scene where the members of the Pearson family visited ailing Rebecca (Mandy Moore).
In the said scene, Toby came alone. Randall (Sterling K. Brown) welcome long-bearded Toby at Kevin's (Justin Hartley) which suggests that Kate's husband hasn't been in that house before. Randall told Toby that he was glad that his brother-in-law decided to visit.
"I just talked to Jack, and they're on their way," Toby said to Randall.
Toby's remark sparked speculations that he and Kate are no longer together. The "they" that he is talking about could be Kate and her new husband or Toby's new wife with Jack.
"It could be a new wife. You never know," Metz surprisingly said in the interview.
The actress teased that the particular flash-forward scene was shot with different alternatives in terms of the characters' lines. Chrissy Metz added that there are scenes that she expected to be shown in the finale but where eventually omitted. She said those scenes will come in the early part of the upcoming season.
The fan theory that Kate and Toby split in the future gain ground after the latter was seen in another the fast forward scene laying depressed in his bed, without a wedding ring. Then Randall called Toby and urged him to join the family because he said "she" wants Toby to be there. The "she" could be Kate or Rebecca.
This Is Us creator Dan Fogelman is not also counting out any possibility when it comes to the fate of Kate and Toby's marriage. In fact, he told EW that there is a reason for concern when it comes to Kate and Toby. One thing is certain though, Kate is not seen in the family gathering not because she is already dead at the time of the event.
Metz assured during her appearance on The Tonight Show Starring Jimmy Fallon that Kate will be around in Season 4. This is Us Season 4 is expected to premiere in fall.
© 2023 Korea Portal, All rights reserved. Do not reproduce without permission.