'Outlander' Season 5 Drops First Photo Of Jamie & Claire; EP Teases "Bloody and Violent" Season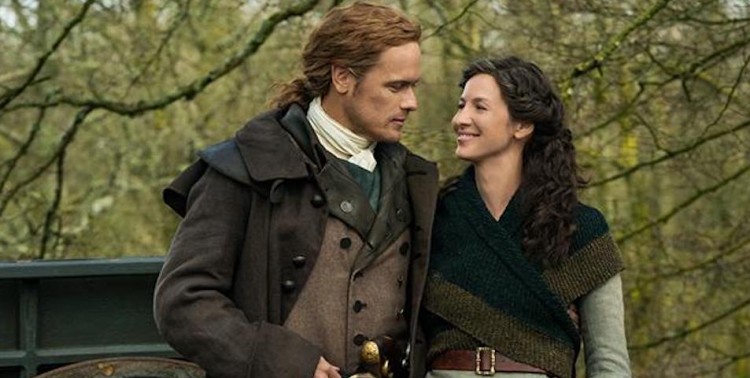 They are still living happily in colonial America. At least that is what the first photo of the Fraser couple suggests in the upcoming Outlander Season 5.
The production of Outlander Season 5 has officially begun in Scotland. To mark the event, Starz has shared a photo of Caitriona Balfe and Sam Heughan as Claire and Jamie, respectively. In the picture, the two is seen in the forest, standing next to a wagon, possibly within their land in North Carolina.
Outlander Season 5 is based on Diana Gabaldon's fifth novel, The Fiery Cross. Executive producer Matthew B. Roberts offered a glimpse of what to expect in Season 5.
He said Jamie and Claire built a new life in Fraser Ridge. However, they will soon find out that living in colonial America is not easy especially with a looming revolution.
"What is a dream for some is a nightmare for others. Being at the center of the birth of America is often a bloody and violent and heartbreaking matter. Now, in Season 5, Jamie and Claire's duty is not only to their loved ones but to the community of settlers forming part of the ever-increasing Clan Fraser," Moore teased.
The revolution will be triggered by the Regulators which viewers have known to be led by Jamie's godfather, Murtagh (Duncan Lacroix). Heughan previously hinted that Season 5 will be tough for the Fraser family.
It can be recalled that in Season 4 finale, the Fraser family is celebrating the birth of Brianna's (Sophie Skelton) child and Roger's (Richard Rankin) return when Jamie received a message from Governor Tryon. In the message, the governor is ordering Jamie to form a militia that will fight the Regulators and arrest and execute its leader, Murtagh.
Caitriona Balfe, on the other hand, said the revolution will also have a huge impact on Claire's family. As a woman who has seen the future of America after the revolution, Claire knows who reap victory at the end of it all.
Meanwhile, Season 5 also marks Balfe and Heughan official start as producers of Outlander. This means the two now have a voice of the creative aspect of the series production. Heughan earlier shared a photo of him, Balfe, Moore, and other executives of the series. The Spy Who Dumped Me actor expressed his excitement to start working with the group again.
Aside from Balfe and Heughan, other cast members that are confirmed to return in the fifth installment are Skelton, Rankin, Lacroix, and Maria Doyle Kennedy (Aunt Jocasta). Outlander Season 5 is expected to premiere in fall.
© 2023 Korea Portal, All rights reserved. Do not reproduce without permission.