'NCIS: Los Angeles' Season 10 Finale Spoilers: CBS Drops First Look Of 'JAG' Capt. Harmon Rabb Jr. With Callen & Sam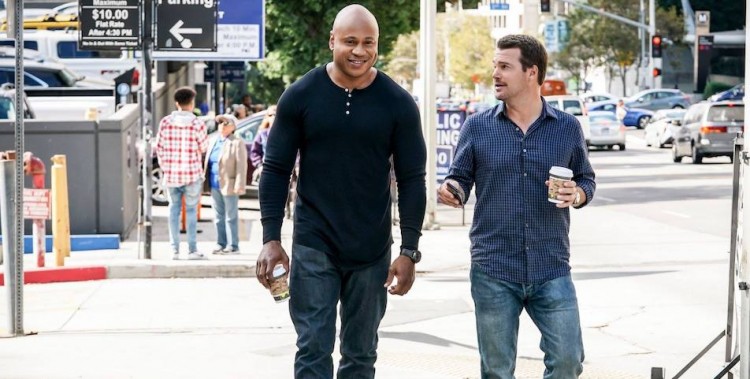 The buzz about the return of JAG's Navy Captain Harmon Rabb Jr. on television continues. CBS dropped the first photo of the character working with NCIS: Los Angeles agents G. Callen and Sam Hanna.
The photo shows David James Elliott as USS Intrepid XO Captain Harmon Rabb Jr. with Callen (Chris O'Donnell) and Sam (LL Cool J) at his ship's battle command center. In the image shared by Entertainment Weekly, the three have a worried look on their faces, possibly because of the information they have gathered about the episode's adversaries.
Elliott first confirmed that will reprise his JAG role in NCIS: Los Angeles Season 10 in a photo with O'Donnell and LL Cool J that he shared on Instagram. Elliott portrayed the role of Captain Rabb, a uniformed lawyer in the Department of the Navy's Office of the Judge Advocate General, for the entire 10-year run of JAG. The show spawned the original NCIS series which created two more spinoffs: NCIS: Los Angeles and NCIS: New Orleans.
The actor will be making his debut for his multi-episode arc appearance in the NCIS spinoff in the May 12 episode, titled "The Guardian." The synopsis of Elliott's first episode stated that the NCIS LA team will uncover a network of ISIS sympathizers who are planning to launch an attack on US aircraft carriers. Callen and Sam will work directly with Rabb on the case.
The story will continue until the Season 10 finale where Catherine Bell will also reprise her JAG role as Lt. Col. Sarah "Mac" MacKenzie. The synopsis for Season 10 finale indicates that the returning Operations Manager of the LA office, Hetty Lange (Linda Hunt), will call a friend to help them thwart an imminent attack on the US aircraft carriers.
Hetty will reach out to her old friend, Lieutenant Colonel Sarah "Mac" MacKenzie, to get access to an elusive Russian diplomat. It looks like NCIS will suspect Russia or someone from its government has a connection to the ISIS sympathizers who are planning the attack.
An interaction between Hetty and Mac would be an interesting scene for fans. But more importantly, many JAG fans are thrilled to see Rabb and Mac's together again in one scene. The NCIS: Los Angeles Season 10 finale could finally give an answer to the mystery on who won the coin flip.
JAG ended in a cliffhanger when Rabb and Mac flip a coin to see which one of them would retire from their Navy commission so that they could be together. It was never revealed who step down or if they actually got married. The NCIS: Los Angeles Season 10 finale is set to air on May 19.
© 2019 Korea Portal, All rights reserved. Do not reproduce without permission.