BIGBANG's Taeyang & Daesung Entertains Festival Audience With Their Group's Best Hits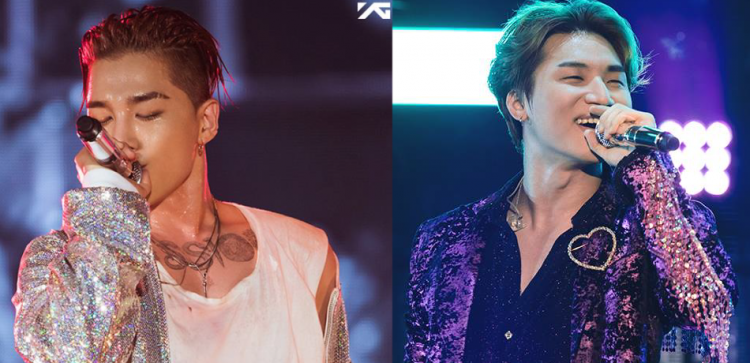 BIGBANG members Taeyang and Daesung have provided entertainment in a music festival celebrating the 100th anniversary of the Korean Provisional Government. The duo sang some of BIGBANG biggest hits.
Taeyang and Daesung attended the festival, which was held at the Independence Hall of Korea in Cheonan, as guest performers. The duo was dressed in their military uniform when they hit the stage.
They performed BIGBANG's hit singles such as "Fantastic Baby" and "Bang Bang Bang." They also had their solo performances.
Taeyang and Daesung clearly miss the stage based on their impressive performance at the festival. Some netizens commented that the two seem to be doing well in the military. Others added that Taeyang and Daesung don't seem to worry about their former bandmate Seungri who is currently involved in multiple scandals that have rocked the country.
Taeyang and Daesung are both currently serving their two-year mandatory military service. The recent music festival is not the first time they appeared in a public event after the news broke about Seungri's first controversy this year: the Burning Sun scandal.
Last month, photos of Taeyang and Daesung smiling surfaced online. It looks like they got invited to speak in a military event as some of their fellow soldiers were seen asking for the K-pop idols' autographs. Some netizens commented that the two are smiling perhaps because the Seungri scandal doesn't come as a surprise to BIGBANG members anymore since they know their former bandmate pretty well.
Earlier last month, Seungri has announced his retirement amidst the accusation of his involvement in prostitution, embezzlement, police corruption, and more. He also sent a request to Korea's Military Manpower Administration to delay his scheduled enlistment on March 25 so he can participate in the police investigation. The military approved his request and moved the start of his military service on June 25.
Seungri is supposed to be the last member of BIGBANG to enlist in the military. T.O.P. started his service in February 2017, as a conscripted policeman. He originally slated to be discharged on November 8, 2018.
In June 2017, however, he pleaded guilty on marijuana use. T.O.P received two years of probation with an additional 10 months in prison. T.O.P resumed his mandatory service on January 26, 2018 and set for discharge in June 2019.
Meanwhile, the other three members of BIGBANG-G-Dragon, Taeyang, and Daesung-all got enlisted early last year. All three is expected to end their military service later this year.
© 2023 Korea Portal, All rights reserved. Do not reproduce without permission.