BIGBANG's Seungri Reunites With Bandmates Daesung & Taeyang; Fans Excited For Band's Comeback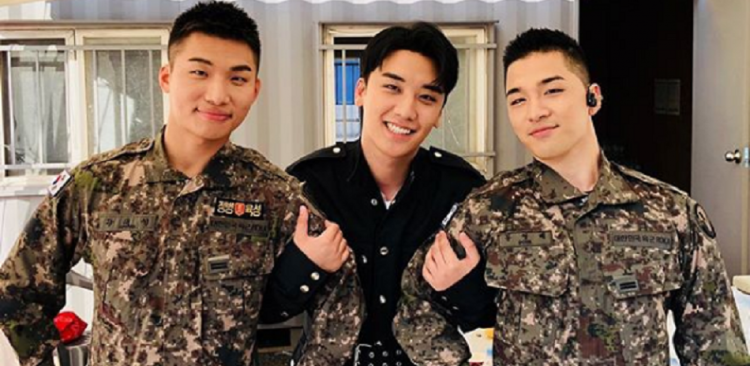 What every BIGBANG fan has been waiting for has finally happened. At least three members-Daesung, Taeyang, and Seungri-had a mini-reunion recently and their fans are very much pleased to see the three together again.
Seungri recently had a special appearance at the 2018 Ground Forces Festival in Gyeryong as per the invitation of his bandmates Daesung and Taeyang. Each of them performed their respective solo songs, as Soompi reported. But the highlight of the show was when the three stood on the same stage once again and sang some of BIGBANG hit songs such as "Bang Bang Bang" and "Fantastic Baby" together.
Seungri also took a photo with Daesung and Taeyang. He posted the snap on his Instagram account and wrote a caption that assured their fans that the two are doing great.
"I came to see private first class Dong Young Bae and Kang Dae Sung who are living as soldiers energetically and in good health," Seungri captioned their photo together.
BIGBANG fans immediately shared their reaction about the reunion. Many have expressed their anticipation for BIGBANG's comeback as a five-member K-pop group.
"This made my day so much I'm screaming of happiness and sadness because we have to wait two years. BIG BANG I NEED YOU," a fan commented on Seungri's post. Check out below some of Daesung, Taeyang, and Seungri's photos on stage.
The "1, 2, 3!" singer is the only member of BIGBANG who is currently not serving in the military. Seungri is expected to start his enlistment before the year ends.
Both Daesung and Taeyang began their mandatory military enlistment in March. The former is currently assigned at the 27th Division recruit training center while Taeyang is at the 5th Artillery Division. They are set to be discharged in November 2019.
G-Dragon also started his training earlier this year at the 3rd Infantry Division in Gangwon province. He will be discharged in October 2019 after completing all the requirements.
T.O.P, on the other hand, has been enlisted for his two-year service in February 2017. His expected date of discharge has been delayed after he got convicted for marijuana usage. The rapper was given a fine and probation term. He resumed his military service earlier this year as a public service worker and he will be discharged in June of 2019.
BIGBANG released the single "Flower Road" in March following the enlistment of G-Dragon, Daesung, and Taeyang. Seungri, on the other hand, dropped his first Korean studio album The Great Seungri in July and also had solo concert tour last August. His YG sitcom YG Future Strategy was released on Netflix on October 5.
[Gallery] [Photos | Videos] 2018-10-07 BIGBANG Taeyang, Daesung and Seungri at Ground Forces Festival in Korea #빅뱅 #BBMusic #BIGBANG https://t.co/ktChJHcGI0 click for more pic.twitter.com/MyMzf2jhJb — BIGBANG 빅뱅 music (@_BBmusic) October 7, 2018
© 2023 Korea Portal, All rights reserved. Do not reproduce without permission.