Fans Most Requested K-Pop Group Reunions That You Wouldn't Want To Miss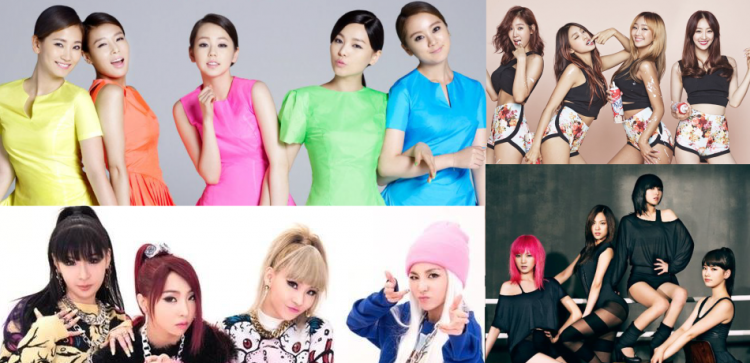 Throughout the years, there have been several K-pop groups that have disbanded. Despite being away from the spotlight for quite some time now, many fans could still remember the groups that they used to stan and would love to see them back on stage. Here are some of the K-pop bands that have been requested time and time again to make a comeback.
Wonder Girls
Who would forget the group that made everybody dance to "Nobody"? This group made several "firsts" in K-pop history. They were named as the first South Korean group to ever chart on the U.S. Billboard Hot 100 with "Nobody."
Wonder Girls had a decade run (from 2007-2017). However despite success internationally, they encounter a bump when members Sunye and Sohee decided not to renew their contracts with JYP Entertainment.
The remaining members Yeeun, Yubin, Lim, and Sunmi continue with the promotions until they eventually disbanded in January 2017. Fans would definitely want to see a reunion of the members even for just one show.
2NE1
Bom, CL, Dara, and Minzy were introduced as members of 2NE1 debuted in 2009. They rose to fame and became one of the highest selling girl group abroad. In 2014, Park Bom's drug scandal forced the group into a hiatus. Then two years later, Minzy decided not to renew her contract with YG Entertainment.
In November 2016, YG Entertainment announced the group's disbandment and the group released their first & final single as a trio, "Goodbye," in January 2017 as a gift to their fans. Among the 2NE1 hits that their fans want to hear them dancing and singing again on stage are "Try to Follow Me," "Go Away," "Lonely," "I Am the Best," "Ugly," "I Love You," "Falling in Love," "Missing You," and "Come Back Home."
K-pop fans could be looking for a possible reunion of K-pop female groups 2NE1 and Wonder Girls on new TV show Stage K. The show's producer Kim Hak Min earlier revealed that they are considering a reunion of these K-pop groups in their show.
Miss A
January 2017 is such a sad month for K-pop fans. Wonder Girls and 2NE1 were not the only K-pop group who announcement disbandment during this time, Miss A is also included in the list.
However, with the recent departure of Suzy from JYP Entertainment, the clamor for Miss A reunion has brought back to light. Suzy is the last member of the group that left the agency. The group disbanded in 2017 after members Jia and Min refused to renew contracts with the label.
Fei, Jia, Min, and Suzy still have all the charm on stage that can make their follower flock on wherever venue they choice to reunite once again. "Goodbye Baby," "Touch," and "Only You" are only three of the group's hit songs that fans would love to hear from the members once again.
Sistar
Sistar is the "summer track Queens." The group gained popularity because of their addictive summer dance tracks. They topped Billboard Korea K-pop Hot 100 four times since debut in 2010.
Despite the success of every song that they released, the group disbanded a few months before their seventh anniversary. The group disbanded in 2017 after Hyolyn decided to prioritize her solo career.
After announcing their disbandment, Sistar released their final song, "Lonely," as well as a medley of their summer hits. Among the biggest hits of Hyolyn, Bora, Soyou, and Dasom are "So Cool", "Alone", "Touch My Body", "Loving U" and "Give It to Me."
B.A.P.
This group had a successful run since their debut in 2012 with the release of their first single "Warrior." But things turn south when the group had filed a lawsuit against their label, TS Entertainment, to nullify their contract, claiming unfair working conditions and profit distribution. The label denied the claims. The two parties eventually reached a settlement and B.A.P. returned to the agency.
B.A.P. reclaimed their title as the K-Pop act with the most No.1 Albums on Billboard's World Album chart when they released their second studio album, Noir, in November 2016. The group's career has been halted again in 2018 when Yongguk and Zelo left the group after their contract with TS Entertainment had expired. On February 18, 2019, the remaining four members also left the label and the band ultimately disbanded.
'Warrior" dance choreography remains as one of the best in K-pop today. Fans would like the B.A.P. members doing those impressive razor-sharp dance moves on stage once again.
Wanna One
It wasn't long ago when Wanna One disbanded but their fans are already longing for a reunion. The 11 members of Wanna One just had their final concert series earlier this year after they officially disbanded on December 31, 2018.
Despite just over a year of exposure, the group has established a strong fan base that will surely fill the venue of their future reunion. Wannables would like to see the members singing and grooving to their hit songs "Energetic," "Beautiful," and "Boomerang" once again.
© 2022 Korea Portal, All rights reserved. Do not reproduce without permission.