Wanna One Shares Touching Message To Fans After End Of Contract; Fans Send Back Love To The Idols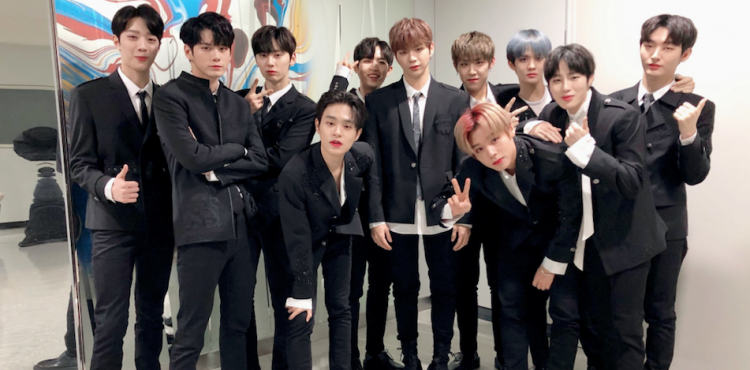 Many fans of Wanna One cried when the group had an emotional "12th Star" performance at the recent 2018 KBS Song Festival. Wannables shed tears once more when the 11-member K-pop group posted a heartfelt message for them on the last day of the group's contract with their label.
On Friday, Wanna One has failed to hold back their tears when they watch the video message from their family members being played on the screen at the KBS Song Festival and afterward sang "12th Star" for their fans. This time, their fans teared up when Wanna One shared a touching message for them. In their message, the group assured Wannables that they will always in their hearts even after the disbandment.
"They say first loves never come true, but Wanna One and Wannables met like a miracle, became each other's first love, and had a beautiful relationship. Those vivid moments that only Wanna One and Wannables know, we will never forget. We hope all Wannables have a happy 2019. #Forever_WannaOne #Always_WannaOne," the boys wrote.
The group wrapped up their broadcast schedule with a cover of TVXQ's "Rising Sun" at MBC Gayo Daejejun on Monday. Wanna One said they hope that their performance of TVQX's song will always be remembered by their fans.
Meanwhile, Wanna One will not be able to attend the upcoming 8th Gaon Chart Music Awards on January 23. The group will skip the award show as their final rehearsal for their last concert is also scheduled on the same day. Nonetheless, the hashtag #WannaOne_You'veDoneWell (translated from Korean) has been trending worldwide as a dedication to the group. Wannables left comments of love, gratitude, and support for the 11 members.
The group's contract with Swing Entertainment has officially expired on December 31. The label earlier released a statement saying there will be no contract extension for the group.
Starting on January 1, 2019, Ji Sung, Sung Woon, Min Hyun, Seong Wu, Jae Hwan, Daniel, Jihoon, Woo Jin, Jin Young, Dae Hwi, and Kuan Lin will return to their original agencies. However, Swing will still manage the group on their final concert this month. The Wanna One's last concert series, titled Therefore, will be held on January 24 through 27 at Gocheok Sky Dome.
Wanna One was formed through the survival competition show Produce 101 Season 2 in 2017. They debuted on August 7, 2017. The K-pop group released their first and last LP, 1¹¹=1 (Power of Destiny), in November along with its hit title track "Spring Breeze." The group also has hit songs such as "Boomerang," "Energetic," "Light," "Burn It Up," "Beautiful," and more.
© 2023 Korea Portal, All rights reserved. Do not reproduce without permission.