'My Fellow Citizens!' Episodes 5 & 6 Spoilers: Hoo Ja Threatens To Kill Detective Mi Young & Blackmails "Brave Citizen" Jung Kook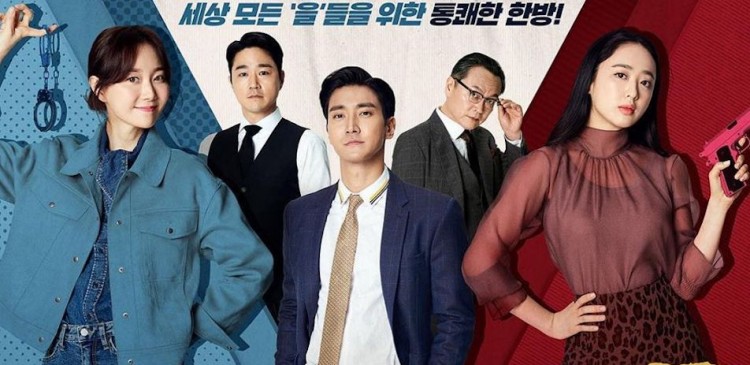 The marriage of con artist Yang Jung Kook to his detective wife, Kim Min Young, is not getting better. It looks like it will worsen in the upcoming My Fellow Citizens! Episodes 5 and 6 next week.
Notorious loan shark heiress Park Hoo Ja (Kim Min Jung) has found a way to get her revenge on Jung Kook (Super Junior member Choi Siwon) and find someone to run for a seat in the National Assembly. Hoo Ja needs someone in the assembly who can passed laws to protect her loan shark business.
In the upcoming episodes, she will kidnap Jung Kook and threaten the life of his wife. Hoo Ja will offer Jung Kook a deal that he has no other choice but to accept. The deal is that she will spare the conman's and his wife's life and continue to live as "Brave Citizen" if he will run for a seat in the National Assembly for her. Hoo Ja came up with the idea of forcing Jung Kook to run in the National Assembly after the latter gained popularity for his recent "good deeds."
In the previous episode of My Fellow Citizens!, Hoo Ja has tracked down Jung Kook, who conned her father. When she is about to catch Jung Kook, the latter beat up a man to get the attention of the police patrolling the area.
It turned out that the man Jung Kook beat up is the most wanted serial killer that the police is hunting down. Since then, he became famous and gained the name "Brave Citizen."
However, despite all of these, Jung Kook relationship with his wife, police detective Kim Min Young (Lee Yoo Young), never gets better. The romance turned sour right after their wedding when Min Young admitted to her husband that she is a police detective. Since then, Jung Kook becomes cautious and always suspect that his wife could find out about his real identity.
Jung Kook is a veteran con artist but he is not the only one hiding a secret. Min Young is also deceiving her husband. The policewoman did not tell her husband that came back working on the field and she has been reassigned at the police Intellectual Crime Investigation Team, which investigating the operation of Jung Kook's group.
Meanwhile, the first week of My Fellow Citizens! showed impressive viewership ratings. It's April 2 episode recorded a nine percent ratings in metropolitan Seoul and 8.4 percent nationwide.
My Fellow Citizens! airs Mondays and Tuesdays at 10 p.m. KST on KBS 2. The romcom drama is Super Junior member Siwon's small screen comeback. He took a hiatus following the controversial dog bite involving his family's dog that killed an old woman in 2017.
© 2019 Korea Portal, All rights reserved. Do not reproduce without permission.