'NCIS' Season 16 Episode 18 Spoilers: Torres Goes Missing & Suffers From Temporary Amnesia + Vance Out On A Date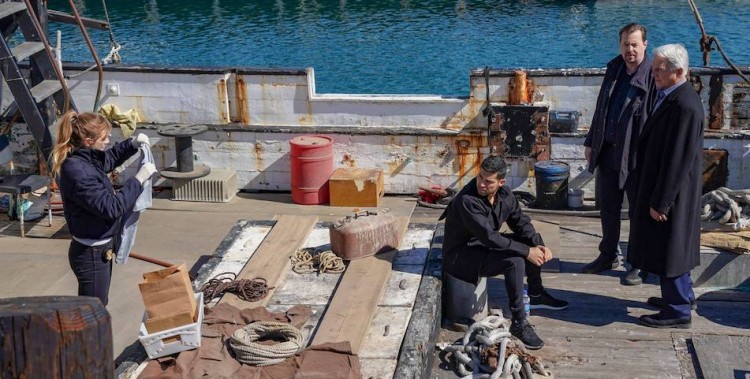 Agent Nick Torres will be in big trouble in the upcoming NCIS Season 16 Episode 18. Fortunately, he has a team backing him up.
An episode of NCIS typically opens with a crime being committed, most often results with a dead. Then Agent Leroy Jethro Gibbs (Mark Harmon) tells his team to gear up before heading to the crime scene.
In the upcoming episode, titled "Mona Lisa," it looks like it will start with Agent Nick Torres (Wilmer Valderrama) held in an old fishing boat. Then at NCIS bullpen, his colleagues are talking about why they can't reach Torres. Gibbs will also tell the team that he himself tried to call Torres but he did not call back.
Naturally, the team will get suspicious considering no one ignores a call from Gibbs. Agent Tim McGee (Sean Murray) will then start to locate Torres last location.
Gibbs and the rest of the team will eventually find Nick in a dilapidated fishing boat and he covered in blood. It gets worse when Nick can't remember what happened to him in the last 12 hours.
The team will work on the case to figure out what happen to Torres while Jimmy (Brian Dietzen) will conduct different tests on Nick. The agent is also seen talking to Agent Jack Sloan (Maria Bello), possibly trying to help him out on getting into his inner psyche and remember what happened to him before the team found him.
Who abducted Torres and leave him in a fishing boat? Nick had worked as an undercover agent for almost his entire career. It is not surprising that maybe one of the crime groups that he infiltrated with could be hunting him down now. Or probably someone who has vendettas on him is trying to frame him for a crime.
Meanwhile, the NCIS Season 16 Episode 18 will also have another interesting story: Director Vance's (Rocky Carroll) new love interest. It is a good sign that Vance is ready to get into a romantic relationship once again after the death of his wife, Jackie, a few years ago and the botched relationship with Congresswoman Flemming. However, his date actually spells trouble.
In the photos shared by Spoiler Guide, the NCIS director is seen out on a date. Vance appears to be a having a great time while sharing a meal with a woman that he doesn't know to be working for the CIA.
It can be recalled that earlier this season, Vance met a woman during his physical therapy sessions. It was later revealed that the woman is actually working for Westley Clark, the CIA agent who has been surveilling the director.
Secretary of Defense Wynn Crawford (Mitch Pileggi) also plans to bring down Director Vance after the events in Episode 11. Crawford ordered Clark to give him all the information the CIA has about Vance. NCIS Season 1l6 Episode 18 airs on April 2 at 8 p.m. ET on CBS.
© 2019 Korea Portal, All rights reserved. Do not reproduce without permission.