'Supernatural' Series Finale Spoilers: Jensen Ackles Teases They Will "Go Really Big" In Season 15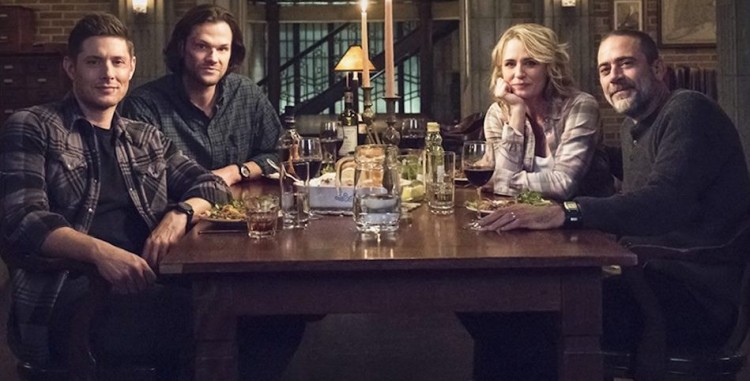 Supernatural fans should brace themselves for huge storylines in the final season of The CW fantasy TV series. Cast member Jensen Ackles has teased that they will not hold back in Season 15 as they plan to go "real big" for the final season.
Ackles (Dean Winchester) along with co-stars Jared Padalecki (Sam Winchester) and Misha Collins (Castiel) earlier announced in an emotional video message that Supernatural will be bidding farewell after Season 15. The lead cast members assured their fans that the SPN family is not going anywhere even though the show will come to an end.
As Supernatural Season 14 wrapped filming, Ackles shared on Instagram a tribute to the cast and crew of the series. In his post, the actor teased they will go really big in Season 15.
"Thanks to all the ghosts, ghouls, vamps, werewolves, and all other things that go bump in the night. You make coming to work a beautiful thing. Thanks to our amazing crew... to @jaredpadalecki @misha @alex8calvert @markrosspelle and the rest of the #spnfamily. Let's all enjoy the break... because next year we go BIG!!! REAL BIG!!!" he wrote.
Padalecki also shared on Twitter a photo of him on his last day on the set of Season 14. The actor is seen having his makeup done by his daughter while expressing gratitude to his SPN family.
Meanwhile, Jeffrey Dean Morgan, who portrayed Sam and Dean's father John, shared on Twitter his thoughts about the show's final season. He also gave a special shout out to his onscreen sons, Ackles and Padalecki. The actor said Supernatural deserve the best ending and he hopes that Season 15 will give an ending befitting to the long story of the Winchester brothers and their fellow hunters.
Morgan recently reprised his character during the 300th episode of the series. So far, Supernatural has yet to share details about the final season but The Walking Dead actor expressed interest in returning in the final season and play his character for the last time.
Morgan is not the only one hoping for John's return in the series finale. Many fans are wishing for the same thing. The last episode of Supernatural Season 14 is slated to air by the end of April while the final season is expected to premiere in fall.
© 2023 Korea Portal, All rights reserved. Do not reproduce without permission.