'The Big Bang Theory' Actress Kaley Cuoco Reveals What She Wants To See Before CBS Sitcom Ends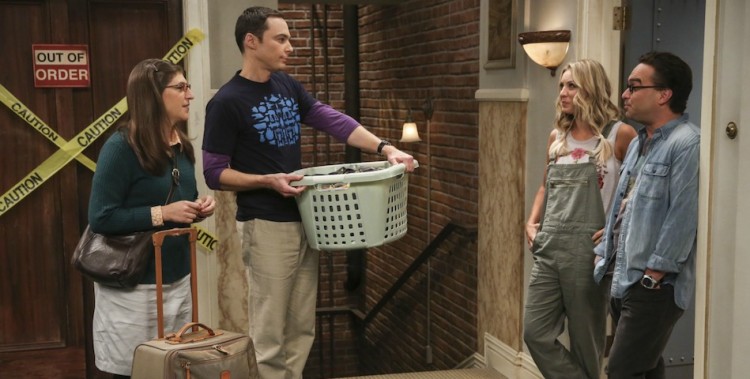 Like the other fans of The Big Bang Theory, lead star Kaley Cuoco also has her own request to the sitcom writers and producers on what she wants to see at the series finale. Cuoco's request is a simple one and many viewers may have already the same thing in mind.
In an interview with PopSugar, Cuoco talked about what she expects about the series finale. The actress said The Big Bang Theory's final episode hasn't been written yet but she already expecting that it will surprise everyone. Cuoco hopes that all loose ends in the characters' storyline will be tied up in the end.
Cuoco said she knows that fans would like to see where the characters' lives will be heading after the finale. She believes that the series writers will come up with a special finale that will leave a mark on the hearts and minds of their viewers.
Then, Cuoco revealed what she really wanted to see before TBBT ends. The actress said she wants to see their apartment building elevator get fixed.
Kaley Cuoco is not the only cast member who wishes for this. Her co-star Jim Parsons (Sheldon) also believe a working elevator is the best way to end the CBS sitcom. When asked how they'd like to see their show end, Parsons said he wants to be on the elevator for the last time.
"The elevator, definitely. That's one of my wishes for the final episode. The elevator gets fixed, at least for a minute, and then we all get stuck in it," he told Entertainment Weekly in an interview earlier this year.
The elevator has been out of order for the entire series. Apparently, it has been broken for four years before the series began and it was because Sheldon saves Leonard's (Johnny Galecki) life.
In a Season 3 episode, Leonard revealed to Penny how the elevator got broken. It was because Sheldon blew up the rocket fuel formula that Leonard has been experimenting on inside the elevator. Sheldon saves Leonard's life but since then, the elevator no longer works.
The elevator has been a witness to many hilarious moments and heated arguments between the characters. In many instances, it is featured in important conversations of the characters whenever they have to walk several flights of stairs when they come in and out of the building.
In some episodes, it also became a trash bin. In The Big Bang Theory Season 10, it was revealed that Leonard and Penny threw their Christmas tree down the elevator shaft after it got infested by some animals. In Season 3, Leonard dropped a wine bottle down to determine the height of the fourth floor.
© 2023 Korea Portal, All rights reserved. Do not reproduce without permission.