'NCIS: New Orleans' Season 5 Spoilers: Pride's Hacker Friend Elvis Is Returning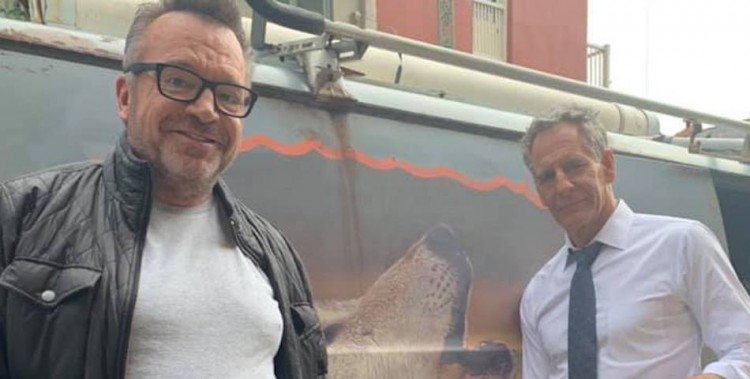 Actor-director Tom Arnold is returning in NCIS: New Orleans as Agent Dwayne Pride's friend, Elvis Bertrand. But Elvis will not be alone. He is bringing someone in when he meets Pride again in NCIS: New Orleans Season 5.
Reports indicate that Elvis will return this season and he will be with his daughter. NCIS: New Orleans fans have known Elvis as the expert computer hacker friend of Agent Dwayne Pride (Scott Bakula). He previously helped the team during the time when Pride is facing a trial by a grand jury in the previous season.
Elvis worked with Pride's Army friend Sgt. Sydney Halliday ( Riann Steele) and journalist Oliver Crane (Mark Gessner) to clear the NCIS agent's name. Fortunately, the group uncover the truth and cleared Pride's name.
Elvis is almost a semi-recurring character as this is his third episode in the series. Arnold first portrayed Elvis in the episode "Suspicious Minds" in Season 3. Then, he re-appeared in Episode 13 "Return of the King" when the NOLA team searches for an expert computer hacker associated with "The Collective", a hacktivist organization that was founded by Elvis.
This season, Elvis is bringing his daughter who is also a hacker. She is also described as a lesbian. CBS has yet to give details as to why Elvis and his daughter get involved in an NCIS case this season.
However, Arnold's latest photos with NCIS NOLA stars on his Twitter account suggest two things. Elvis could be featured in the upcoming Episode 16 this week or in another episode where Agent Hannah Khoury (Necar Zadegan) is no longer in hiding.
One of his posts showed a photo of him along with NCIS: New Orleans actresses Vanessa Ferlito (Agent Tammy Gregorio) and Zadegan. It looks like the three filmed some scenes at Bourbon Street in New Orleans which could mean Hannah is back on the field.
In this week's episode, Hannah and her family will be on protective custody after it was revealed that terrorist Victor Zelko is still alive. The team will look for Zelko's whereabouts. Pride might be asking the assistance of his expect hacker friend to find Zelko.
Arnold's upcoming episode could be one that is still in production and will air in April. It could be computer hacking-center episode wherein Pride and his team needs Elvis and his daughter's expertise.
The CBS series will return this week after a brief hiatus. NCIS: New Orleans Season 5 Episode 16, titled "Survivor," airs on March 12 at 10:00 p.m. ET.
© 2020 Korea Portal, All rights reserved. Do not reproduce without permission.