Most Famous K-Pop Friend Squads That Everyone Wants To Be Part Of & End Fanwars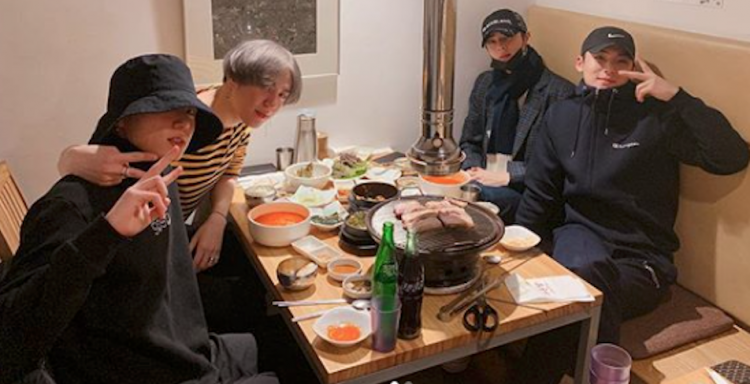 They say it is hard to find true friends in the entertainment industry. But for some reasons, these K-pop idols found friendships among their closest rivals. Here are some of the most famous friendship squads in K-pop that makes the hearts of fans flutter.
The '91 Liner
The members of this group are known to be the shy type in their respective K-pop group. This could be the reason why they became close friends. The '91 liner is made up of Apink's Chorong, Mamamoo's Solar, BTOB's Changsub, former INFINITE member Hoya, and ex-B1A4 member Jinyoung.
The '92 Liner
This group has MAMAMOO member Moonbyul, B1A4's Baro and Sandeul, EXID's Hani, BTS's Jin, and VIXX's Ken. Since all of them have busy schedule these days, they can only talk on their group chat. Another '92 liner squad that are really close to each other are Block B's Zico, HyunA, TEEN TOP's C.A.P, and FTISLAND's Minhwan and Seunghyun.
The '95 Liner
This group usually meet in awards shows since they also have busy schedules with their respective K-pop band. But whenever they find time to see each other, they go all in an adventure such as ski trip or simply celebrate each other's birthday. Members of this group include BTS's V and Jimin, BTOB's Sungjae, Boyfriend's Youngmin, Kwangmin, and Minwoo, MYNAME's Chaejin, C-Clown's T.K., and TEEN TOP's Ricky.
'97 Line Squad
This crew consists of Seventeen members Mingyu, The8, and DK, GOT7 members Bambam, and Yugyeom, BTS's Jungkook, Astro's Eunwoo, and NCT's Jaehyun. This group keeps themselves updated about each other via their exclusive group chatroom and always show support in each other's promotions.
Padding Friends
This mix of idols are from different K-pop groups and liners but often hang out and show support to each others' project because they simply get along with. The group is made of SHINee's Taemin, EXO's Kai, BTS's Jimin, Wanna One's Ha Sungwoon, HOTSHOT's Timoteo, and VIXX's Ravi.
Sung Woon previously revealed that their fans created the name "padding friends" after Taemin gave them all with matching paddings. Additionally, this group also designed their own jackets to show how close they are with each other.
Thai Idols
This group obviously have members who are Thai nationals. Their group chat has GOT7's BamBam, BLACKPINK's Lisa, NCT's Ten, CLC's Sorn, and (G)I-DLE's Minnie. There are fans speculation that 2PM member Nickhun has also joined this group.
© 2019 Korea Portal, All rights reserved. Do not reproduce without permission.