'Grey's Anatomy' Showrunner Explains Why DeLuca Is Good For Meredith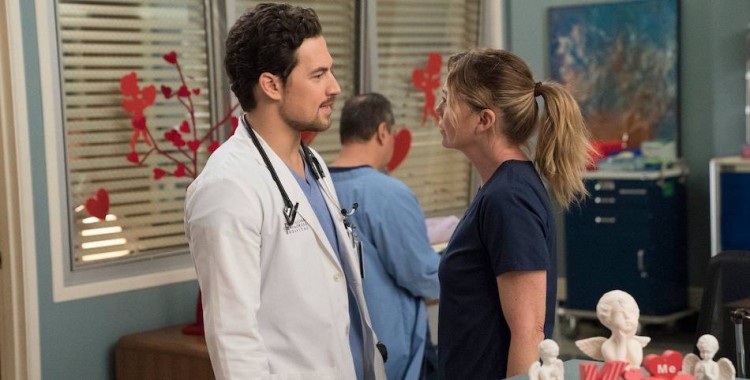 It's time for Meredith-Derek avid followers to move on. Grey's Anatomy showrunner Krista Vernoff believes that the brilliant surgeon and mother of three deserves to be happy and start a new chapter in her romantic life.
Vernoff admitted that she can't understand why there are viewers who still not ready to see Meredith (Ellen Pompeo) in a new romantic relationship after the death of her husband, Derek Shepherd (Patrick Dempsey), in Season 11. Vernoff said she is not underestimating the significance of Derek to Mer's life as he was her first love.
The showrunner recalled how Mer grief after the tragic death of Derek. She said Meredith is like living amongst the dead and almost settle of spending her entire alone.
Vernoff believes that it is time for Mer to find new love like what she has now with Andrew DeLuca (Giacomo Gianniotti). She pointed out how genuine Mer's smiles lately and that is because of DeLuca. She said it is an affirmation of personal happiness for the lead character.
"And now if you look, you're starting to see more makeup, more wardrobe. Nail polish. She's very subtly returning ... to the land of the living and the land of the romantic living," Vernoff told TVGuide.
In the recent Season 15 episode, Meredith and DeLuca take a huge step in their relationship. Mer finally told her best friend, Alex (Justin Chambers), that she has a new boyfriend.
Although their intimate moments in Episode 15 got interrupted, viewers could expect that things between the two will get hotter in the upcoming episodes. Unless DeLuca's dad will get into their way.
Mer has finally met DeLuca's dad, Vicenzo (Lorenzo Caccialanza), in the previous episode. But it looks like Vicenzo will bring drama to the new couple.
What will be old DeLuca's first impression of Meredith is remain to be seen. Will there be a clash between the two renowned surgeons? It can be recalled that Andrew told Meredith in the past that his dad was a famous surgeon in Italy who was mentally unstable.
Meanwhile, Grey's latest episode officially surpassed the record set by George Clooney, Julianna Margulies, Anthony Edwards, and Noah Wyle in E.R. The ABC medical drama has beaten the NBC series as the longest-running medical drama on primetime television with an impressive 332 episodes. Following the latest milestone, Grey's Anatomy will continue to air every Thursdays at 8 p.m. ET/PT on ABC.
© 2020 Korea Portal, All rights reserved. Do not reproduce without permission.