'Grey's Anatomy' Season 15 Episode 10 Spoilers: Meredith-Deluca-Link Love Triangle Is On; Deluca Steps Up To Help Owen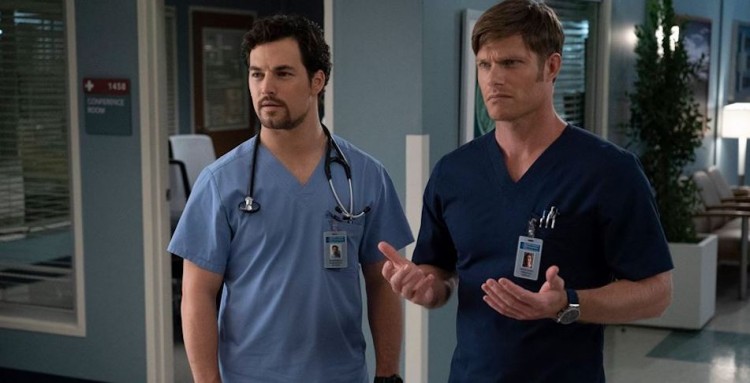 World-renowned surgeon Meredith Grey will be in a love triangle! However, she will be butting heads with one of the men who have eyes on her in the upcoming Grey's Anatomy Season 15 Episode 10. Meanwhile, Deluca will prove that his fellow surgeons could depend on him too.
In the episode, titled "Help, I'm Alive," Meredith (Ellen Pompeo) will question newcomer Dr. Atticus "Link" Lincoln's (Chris Carmack) laid-back approach over a patient's treatment. The new orthopedic surgeon of Grey-Sloan Memorial Hospital could be suggesting a more easy treatment for a patient but Meredith disagrees that it is the best for the patient.
This will be the first conflict between the two. Since Link arrives in the hospital, it is all flirting between the two.
Meanwhile, things between Meredith and Andrew DeLuca (Giacomo Gianniotti) are getting better. Dr. Link may probably just making something up to get Meredith's attention. Since Mer agreed to have drinks with him, the two haven't had a chance to spent time together because of the recent windstorm and Deluca.
Elsewhere, Deluca will also step up in the operating room to help out Owen (Kevin McKidd). In the teaser for Episode 11, Owen loses consciousness at the OR after the anesthesiologist accidentally injected Owen's IV with anesthesia. It is unclear why Owen is on an IV.
Owen will also be dealing with the Teddy (Kim Raver) pregnant situation in the upcoming episode. In the previous episode, Amelia (Caterina Scorsone) told Owen that she is giving him time to think about the options he has about Teddy and the baby.
Owen earlier told Teddy that he wants to be involved in raising their kid. However, he also loves Amelia and they have been doing great in fostering baby Leo and taking care of Betty.
Meanwhile, Maggie (Kelly McCreary) is getting more worried that Catherine (Debbie Allen), Richard (James Pickens Jr.), and Jackson (Jesse Williams) seem not to find a common decision on how to approach Catherine's cancer. Maggie told Jackson about his mother's cancer diagnosis in the previous episode. Towards the end of the episode, Jackson and Maggie talked to Richard about his wife's health condition.
Meredith and neurosurgeon Dr. Tom Koracick (Greg Germann) earlier found a large tumor on Catherine's spine. Koracick has told Meredith that he has no idea on how to remove the tumor without paralyzing Catherine. But Catherine demanded to them to find a way to keep her alive. Grey's Anatomy Season 15 Episode 11 is set to air on January 24 at 8/7c on ABC.
© 2019 Korea Portal, All rights reserved. Do not reproduce without permission.