'Grey's Anatomy' Actor Giacomo Gianniotti Teases Meredith Might Find Derek's Replacement Soon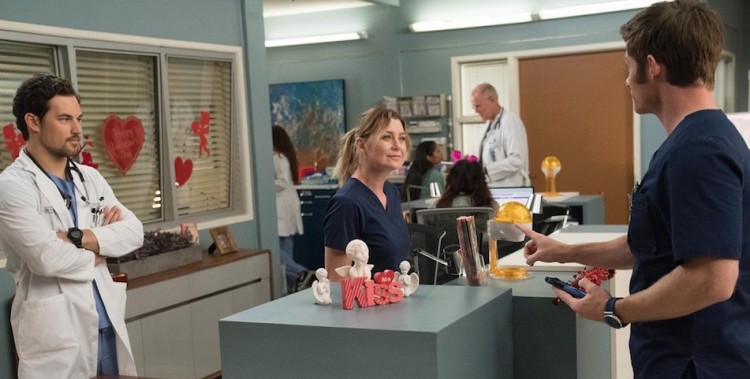 Things are getting better between Meredith and DeLuca, and Meredith and Link in Grey's Anatomy Season 15. Will she be able to finally find a Derek Shepherd's replacement in her heart this time around?
Grey's Anatomy cast member Giacomo Gianniotti talked about the blooming romance of Meredith (Ellen Pompeo) and his character, Andrew DeLuca, in this season of Grey's Anatomy. Although it is a love triangle between Meredith, DeLuca, and Link (Chris Carmack), Gianniotti is confident that his character already had headstart from his competition.
During the show's panel at the recent TV Guide at the Television Critics Association winter press tour, Gianniotti said DeLuca has a high chance to win Mer's heart against Link. He pointed out the added charm of DeLuca of being an Italian and a romantic guy, not to mention Mer also speaks Italian.
Moreover, his character's backstory will also reveal in the upcoming episodes. The actor's hope is that it will create more common grounds between the two doctors.
"I think DeLuca likes to think he has it in the bag already and I'll just stick with that answer...[DeLuca] is just trying to focus on his path. If someone gets in his way, I'm sure [DeLuca] will find a way to out maneuver him," he said.
Gianniotti also believes that intimate elevator scene of Mer and DeLuca in Grey's Anatomy Season 15 winter premiere gave his character a great lead against Link. In the said scene, DeLuca opened up about his childhood and the mental illness of his father. He said anyone can be attracted to someone who doesn't mind talking about his emotions and being vulnerable.
Gianniotti said the episode received positive feedback from fans. This is an important sign that fans of Meredith-Derek love story are already moving on and accepting that the female surgeon may find another love this season or beyond. Grey's Anatomy has already been renewed for Season 16 so Mer has a lot of time to explore her options.
The actor further confirmed that things will going to heat up between Mer and DeLuca in the upcoming episode. In the teaser for this week's Episode 12, Mer and DeLuca are going out on a date. However, Mer will also ask Link for a date. A scene in Episode 12 preview shows the two male doctors sharing a wine toast.
It looks like Meredith will have both men on a date. Based on Episode 12 synopsis, the award-winning surgeon will find clarity on her dating situation. Grey's Anatomy Season 15 Episode 12 airs on February 7 at 8 p.m. on ABC.
© 2020 Korea Portal, All rights reserved. Do not reproduce without permission.