'Touch Your Heart' Episode 7 Spoilers: Ji Shim Stalking Jung Rok + He Takes His Next Move To Get Closer To The Actress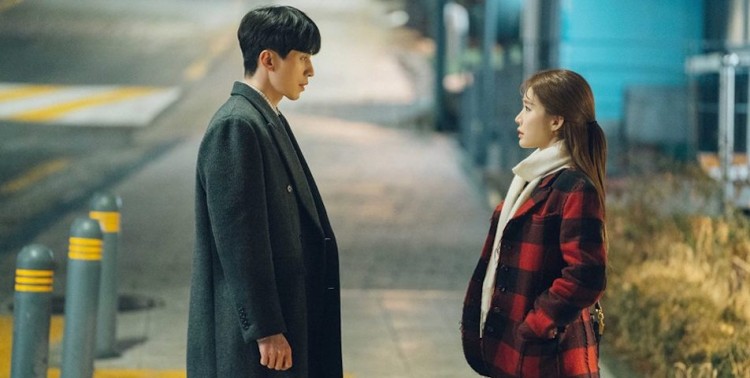 Oh Ji Shim and Kwon Jung Rok will be playing cat and mouse once again in the upcoming Touch Your Heart Episode 7. The actress will stalk her boss in a cafe but Jung Rok will catch her.
It looks like Ji Shim (Yoo In Na) and her boss, Jung Rok (Lee Dong Wook) will have another misunderstanding at the office. They both get upset about each other.
While in a cafe, Jung Rok is having a hard time focusing on his work. But he gets more confused when he sees Ji Shim in disguise.
In the recently released photos for the upcoming episode, the actress is seen in a restaurant clad in a hoodie, jeans, mask, and glasses to hide her identity. As she does her best to avoid her boss' gaze, Jung Rok will grab her by the hood of her jacket.
In a preview for Touch Your Heart Episode 7, Ji Shim also receives a flower arrangement at the law office. The beautiful present has different pink flowers. It is not clear who sent her the flowers but it could be Jung Rok. The perfectionist lawyer is well aware of her secretary's craze for the color pink. The flower could be Jung Rok's way to apologize to Jin Shin.
Meanwhile, the law firm staff will go on a trip for a workshop. While in the woods, all men in the group are worried that Ji Shim could catch colds when she started sneezing. Everyone is offering her their jacket and hot packs.
Jung Rok, on the other hand, is silently observing his colleagues. He might be thinking that he knows exactly what will keep Ji Shim warm.
In a previous episode when Ji Shim is cold, Jung Rok suggested to her to put her hands in the pockets to warm them up. She mistakenly thinks that he's offering his pockets to her so she slides her hands on his pocket.
Ji Shim told Jung Rok that she was really embarrassed at the time. She explained that since she has been in many TV dramas, it already interfere with her sense of reality. But to Ji Shim's surprise, Jung Rok made a sudden confession. He grabbed her hand and put it in his pocket.
"I'm worried for you. As much as you worry and comfort me, I now want to do that for you as well," he told her.
In the upcoming episode, Jung Rok will admit to himself that he is too slow in making his moves to get closer to Ji Shim. It seems like he will decide to formally ask the actress to go out on a date with him. Touch Your Heart airs every Wednesday and Thursday at 9:30 p.m. KST on tvN.
© 2020 Korea Portal, All rights reserved. Do not reproduce without permission.