'Outlander' Fans Freak Out Over Sam Heughan's Hot Workout Photos; Actor Teases Secret Project With Game Of Thrones Actor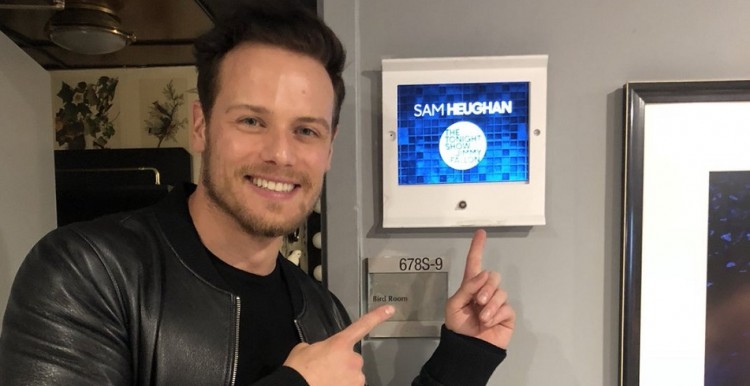 Outlander actor Sam Heughan's charming smile and Scottish accent are more than enough to make his fans swoon. Flaunting his muscles while sweating in a hot workout routine makes his fans dying.
Heughan shared recently some photos on Instagram featuring him in a tank top while working out in a gym. One of the snaps also shows Heughan along with Game of Thrones actor Tom Hopper.
"Budapest! Jet-lagged and getting after it with my boy @tom.hopperhops. What a beast," Heughan captioned their selfie.
Another photo shows Heughan showing off his huge biceps while lifting some weights. This makes many of his fans love him even more and hit the gym like him.
"Omg stop I can't take it... I wish u could work out at our gym.... my girlfriends and I would certainly be more motivated!!" one fan reacted. "So Sir we get knee porn, bicep porn, and baby face all in 1 photo from NFG," another fan commented.
Heughan is known for sharing photos while building up his muscles at the gym. He previously posted a clip of him working out for his role in Vin Diesel-movie Bloodshot.
The Spy Who Dumped Me actor previously revealed that he workout really hard to be able to get back into Highland warrior shape. He said prior to Outlander, he usually does running, but it changed when he received the offer to play the role of Jamie Fraser.
"Before I got the job I was probably around 82-84 kg (180-185 pounds)... But I had to look a bit bigger and I needed to look like someone who could take care of himself. He (Jamie) is an outdoor man and a warrior, so I had six weeks in London with a trainer at a CrossFit gym and we started learning the necessary deadlifts and Olympic lifts and then did a lot of conditioning work. Throughout the year I built up my way to 92-94 kgs (202-207 pounds)," he told Men's Journal in an interview in 2014.
Meanwhile, Heughan also used the hashtag #SecretProject in his photo with Hopper which could mean the two are working on a project together. Hopper also posted the snap with Heughan on his Instagram and also added a special shoutout to English actors Owain Yeomana and Noel Clarke. In a separate post, Clarke shared his outdoor photo along with Heughan and Hopper in Budapest, Hungary.
Heughan's upcoming film, Bloodshot, shot some scenes in Budapest. The filming of the movie wrapped up on October 25. It looks like the Outlander star is staying in Hungary for a little longer.
Bloodshot is set to kick off in cinemas on February 21, 2020. Meanwhile, Heughan's TV series Outlander is already in its Season 4. Episode 3 airs on Sunday at 8 p.m. ET on Starz.
© 2019 Korea Portal, All rights reserved. Do not reproduce without permission.