BTS's Jimin, EXO's Xiumin, BIGBANG's Seungri, Park Seo Joon, & More Celebrities Attended Wanna One's Last Concert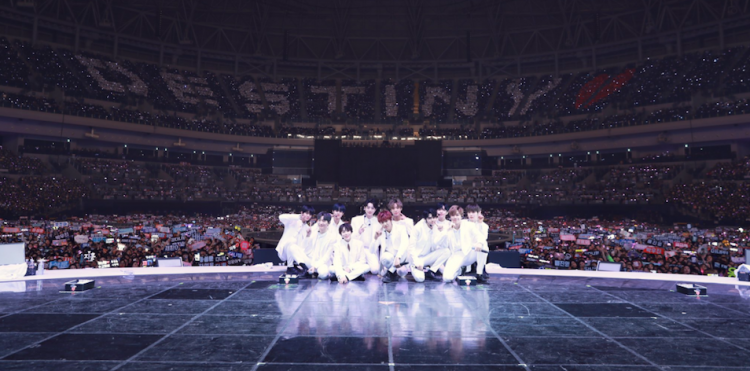 Several K-pop idols have showed their support to Wanna One on the group's final concert series from January 24 to 27. Fans have spotted BTS member Jimin, EXO's Xiumin, BIGBANG's Seungri, actor Park Seo Joon, and more attending the event on different dates.
The 11 members of Wanna One had the chance performed as a group for the last time and to officially bid goodbye to their fans, called Wannables. It was not only a heartbreaking concert for Wanna One and their fans but also an emotional event to the celebrities who attended the event.
Wanna One's final concert series in Seoul's Gocheok Dome was titled Therefore. The group's last four days together have been filled with special memories, laughter, and tears.
Some fans tweeted spotting Jimin wiping tears at one point. Many believe that the BTS member attended the concert to cheer on Wanna One member Ha Sungwoon, who is known to be his close friend.
Kang Daniel expressed gratitude to Seungri and What's Wrong With Secretary Kim actor Park Seo Joon for supporting their concert. Daniel called Seungri his "brother" and also expressed his wish to see Park in his future performances.
"Seungri brother!! Thank you so so much for coming to the concert. Can't believe busy Seung-tsby (Seungri + Gatsby) came to see me hehehe.Thank you so so much," Daniel captioned his selfie with the BIGBANG singer.
Heize and former IOI member Jeon Somi also attended the concert. Heize showed up to support her The Heal unit mates Ong Seong Wu and Lee Dae Hwi.
Jeon Somi, on the other hand, attended the concert to cheer for her good friend Lee Daehwi. Apparently, the two became friends when they both trained under JYP Entertainment. She also shared a photo of her with Lee Daehwi and bandmates Lai Guanlin and Park Woojin at the backstage of the concert venue.
Meanwhile, after the last night of their concert series wrapped up, Wanna One shared their last group photos together to mark the official end of their group activities. Wannables also began tweeting the hashtag #워너원의모든길_역사로남아, which is translated to "All of Wanna One's paths will go down in history."
The hashtag appeared on top of Twitter's worldwide trending list on Sunday. Fans from around the world used it to thank the group and celebrate their achievements.
Wanna One disbanded on December 31, 2018, after Swing Entertainment did not renew the contract of the members. Moving forward, the Wanna One alums will embark on their solo careers under their respective agencies.
© 2023 Korea Portal, All rights reserved. Do not reproduce without permission.