'Arrow' Season 7 Showrunner Assures The Entire Story About Felicity's Death Will Be Revealed Soon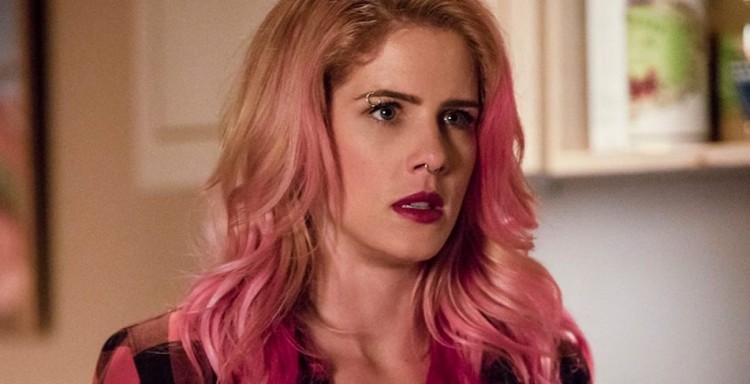 Some Arrow fans are a little impatient about the story behind Felicity's death. Arrow showrunner Beth Schwartz has assured fans that will be disclosed in the upcoming episodes and the biggest reveal will be on Episode 16.
Since Arrow Season 7 Episode 4, viewers have known that Felicity Smoak (Emily Bett Rickards) has died in the future. Then in another flash forward scene in episode 6, Dinah (Juliana Harkavy) revealed to Roy Harper (Colton Haynes) and adult William (Jack Moore) that Felicity was murdered. What fans want to know now is why someone murdered Felicity.
According to Dinah, Felicity was killed a few weeks before her supposed meeting with Oliver's son. Dinah also told the two that prior to her death, Felicity had become a criminal when she assumes her father's mantle as the Calculator.
'We're going to learn a lot about it in the next couple of episodes, but definitely [Episode] 16 is going to be the answer to that mystery and what's been going on in the Glades," Schwartz told TV Guide.
Felicity Smoak, a.k.a. Team Arrow's Overwatch, is a major character in the Arrow series. It would be hard for viewers to imagine the show without her. Hence, there were speculations that Felicity may not actually dead and may have faked her death for a reason.
Meanwhile, the blooming Glades and the terrible Star City were seen in the previous episode of Arrow Season 7 as well as the future Rene (Rick Gonzalez). Dinah showed to Rene the digitized maps of Star City that they found from Felicity's files. The map shows the plot to destroy Star City.
Planning to wipe out Star City is an out-of-character for someone like Felicity. However, as Dinah had told William and Roy in the flash forward, Felicity has changed. She is not the same person that they used to know.
However, it looks like Dinah also believes that Felicity has nothing to do with the destruction of Star City. In Episode 10, she told Rene that she believes that whoever killed Felicity is the person behind the plan.
Arrow Season 7 airs on Mondays at 8 p.m. on The CW. In the upcoming Episode 11, the past comes back to haunt both Oliver (Stephen Amell) and Laurel (Katie Cassidy). Meanwhile, Curtis (Echo Kellum) will be upset of Diggle (David Ramsey) and Lyla (Audrey Marie Anderson) when he finds out that they two have restarted The Ghost Initiative with Ricardo Diaz (Kirk Acevedo).
© 2023 Korea Portal, All rights reserved. Do not reproduce without permission.