K-Drama Actress Yoo In Na Shows How She Perfectly Disguise In Upcoming K-Drama 'Touch Your Heart' + Supporting Characters Revealed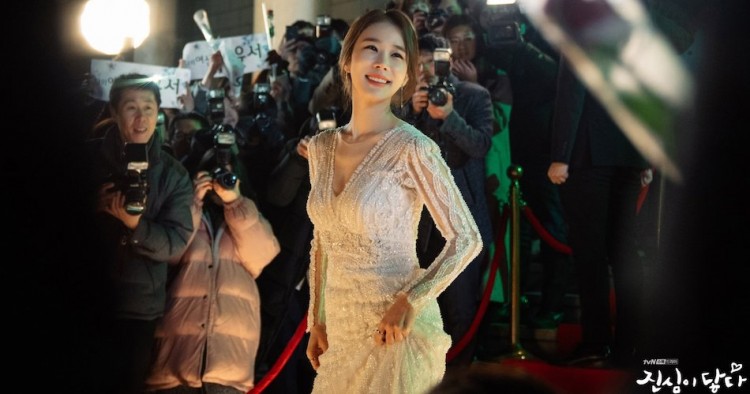 Korean broadcast network tvN has released promo photos of the characters for the upcoming K-drama Touch Your Heart. In a couple of photos, Yoo In Na has shown how her character in the romantic comedy series can disguise as a law firm secretary.
The new still photos show Yoo as popular actress Oh Yoon Seo (Yoo In Na) but in disguise as a secretary in a law firm. Yoo Seo is seen trying to hide her face with a sunglasses and a scarf but still exudes her celebrity charm.
Touch Your Heart follows the romance that blossoms between perfectionist lawyer Kwon Jung Rok (Lee Dong Wook) and popular actress Oh Yoon Seo (Yoo). Yoo Seo gets involved in a scandal with a third generation chaebol. In order to revive her career and make a comeback, she needs to land a role in a high-profile K-drama.
To gain experience for the role that she is eyeing for, she pretended to be a secretary and ends up working for Jung Rok in a law firm. Yoon Seo is an actress so it is expected that she can pull this off with ease.
But can she really fool everyone in the office including the meticulous lawyer Jung Rok? Can she stand the pressure of working as secretary of a top-caliber lawyer before she gets caught of using a false identity?
Meanwhile, Touch Your Heart also introduces its supporting characters. Are You Human? actor Lee Joon Hyuk plays the role of Oh Yoon Seo's agency CEO Yeon Jun Seok. Wok Of Love star Oh Eui Sik portrays the role of Gong Hyeok Jun, Oh Yoon Seo's manager since her debut. He and Yoon Seo are like siblings and he cares for her more than anyone.
At the Always Law Firm, Jung Rok's colleagues are CEO Yeon Jun Kyu (Oh Jung Se), the narcissistic divorce lawyer Choi Yoon Hyuk (Shim Hyung Tak), and quiet but easy to fall in love lawyer Dan Moon Hee (Park Kyung Hye). Also working at the firm is veteran secretary and divorced single mom Yang Eun Ji (Jang So Yeon), office manager Lee Doo Seob (Park Ji Hwan), and the office gossip girl Kim Hae Young (Kim Hee Jung).
The combination of characters in Jung Rok and Yoon Seo's lives will surely bring laughter to viewers. Touch Your Heart is set to premiere on tvN on February 6 at 9:30 p.m. KST. It will be taking the time slot of Encounter which will be airing its final two episodes this week.
© 2019 Korea Portal, All rights reserved. Do not reproduce without permission.