'Encounter' Finale Spoilers: Soo Hyun & Jin Hyuk Break Up; Jin Hyuk Finds Out What His Mother Did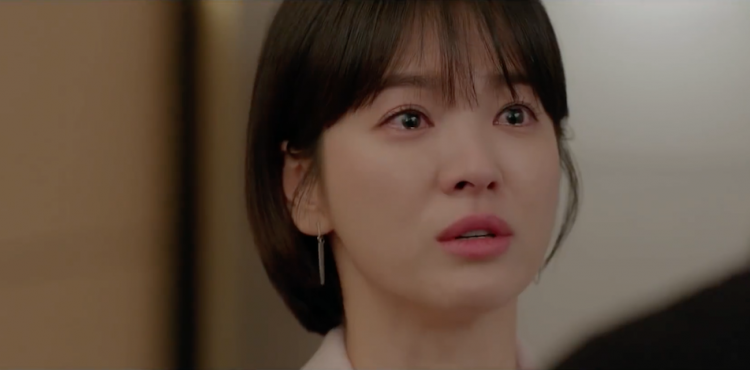 A mix of different emotions is expected in the upcoming last two episodes for Encounter. For now, only one thing is certain. Soo Hyun and Jin Hyuk will break up. Whether they will rekindle their romance at the end, that remains to be seen in the most-anticipated ending of K-drama Encounter.
The previous episode of the tvN melodrama ended in a bittersweet date of Soo Hyun (Song Hye Kyo) and Jin Hyuk (Park Bo Gum) in a bookstore. Jin Hyuk had a great time but for Soo Hyun, it was a heartbreaking moment. She knows that it will be their last time together as she decided to break up with him.
At the end of the episode, Soo Hyun and Jin Hyuk lovingly look at each other from the opposite ends of the hall. The latter shows off his sweetest smile to his girlfriend while Soo Hyun is teary-eyed as she tells herself that she is about to break the heart of the man who loves her so dearly.
Earlier, Jin Hyuk made a promise to Soo Hyun's father that he will keep her safe and will stay on her side. Soo Hyun, on the other hand, met with Jin Hyuk's mother, who begged her to break up with her son. Then, Jin Hyuk's brother got in a fight with a friend because of Jin Hyuk's relationship with his boss. Soo Hyun begins to realize that is creating a problem at Jin Hyuk's family.
Jin Hyuk knew that there is something bothering Soo Hyun but he hasn't realized that it is his family. Jin Hyuk is probably thinking that Soo Hyun is just having a hard time at the hotel because of her ex-husband and former mother-in-law. Soo Hyun may also feel the guilt that her father abandoned his political ambition because of her.
In the teaser for Encounter Episode 15, Soo Hyun admits to Jin Hyuk that his mother sent her a tangerine tea and they have also met recently. She tells him that she can break the heart of his mother and instead, decided to end her relationship with Jin Hyuk.
It looks like Jin Hyuk will beg on Soo Hyun not to break up with him. He tries to hold her hand but Soo Hyun will pull her hand away. Another scene in the preview shows Soo Hyun removing from her finger the ring that Jin Hyuk gave to her.
Meanwhile, Jin Hyuk's mother is confessing to her husband what she asked Soo Hyun to do. It looks like there will a tension at home after that. Jin Hyuk's mother is seen sleeping at the couch, probably waiting for her son to arrive. But instead of waking her mother up, Jin Hyuk lovingly put a blanket over her and decided not to confront his mother about what she told Soo Hyun to do.
The Encounter finale is set to air this week. Episode 15 will be on January 23 while the last episode will be on January 24. It will air on tvN at 9:30 p.m. KST.
© 2020 Korea Portal, All rights reserved. Do not reproduce without permission.