K-Drama 'Touch Your Heart' Drops New Still Images Featuring Lee Dong Wook In A Courtroom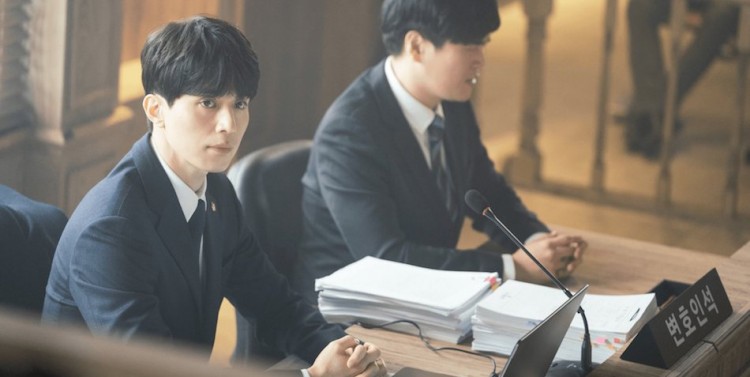 The anticipation for the upcoming reunion K-drama of Goblin stars Lee Dong Wook and Yoo In Na gets even higher as tvN released new still images for the series featuring the actor inside a courtroom. Lee looks dashing and well-respected lawyer in the new photos.
Korean actor Lee Dong Wook is will prove once again that he is a versatile actor. After playing Grim Reaper and a doctor in his previous K-dramas, Lee will portray the role of a lawyer in his upcoming TV series Touch Your Heart.
The new still images for the series feature Lee looking dignified in his suit while inside a courtroom. In one of the photos, he seems to be seriously listening to the court's judge while in the second photo, it looks like he is doing cross-examination of a witness.
In the K-drama Touch Your Heart, the actor portrays the role of Kwon Jung Rok, an arrogant and perfectionist lawyer who always wins his case. He deeply cares about his law firm's reputation and also a notorious workaholic who hates tardiness.
In the series, he will meet popular actress Oh Yoon Seo (Yoo In Na), whose career is on a downfall due to a scandal involving a third-generation chaebol. Yoon Seo will be forced to work as Jung Rok's secretary to get a major role in the project of a famous writer. In order to salvage her career, she needs to gain experience as secretary to get the TV role.
The chaos at the law firm will start when Jung Rok finds out that the secretary he hired is the actress that was recently involved in a big scandal. To make things worst, he will find out that Yoon Seo only disguises as a secretary to get into a TV drama. However, it seems like instead of hating the actress, a romance will bloom between the two main characters.
"From the very first day of filming, Lee Dong Wook made a perfect and complete transformation into Kwon Jung Rok. He made all the women on set swoon by following his portrayal of the perfectionist lawyer Kwon Jung Rok, who is clear-cut and unambiguous in keeping his public and personal lives separate, with a surprisingly warm and gentle smile," Soompi quoted the producers of the show as saying.
tvN previously released a teaser for Touch Your Heart. It features both Lee Dong Wook and Yoo In Na. The two are seen looking deeply into each other eyes and share sweet smiles as they decorate a Christmas tree.
Playing as a couple is not new for Lee and Yoo. They previously teamed up in the hit TV series Goblin: The Great and Lonely God alongside Gong Yoo and Kim Go Eun. In the fantasy romance series, the two also played as lovers. Touch Your Heart is set to premiere on February 6 at 9:30 p.m. KST on tvN, following the conclusion of Encounter.
© 2019 Korea Portal, All rights reserved. Do not reproduce without permission.