'Encounter' Episode 9 Spoilers: Jin Hyuk's Family Gets Involve In His Affair With Soo Hyun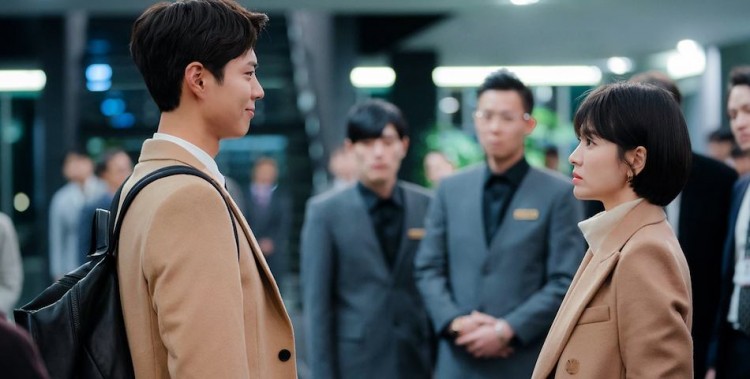 It looks like the bliss that Kim Jin Hyuk and Cha Soo Hyun felt when they shared a kiss in the previous episode of Encounter will be short lived as more challenges are about to rock their new relationship. It looks like Chairman Kim will not stop until her son and Soo Hyun will get back together especially now that she knows that her son still loves his ex-wife.
In the upcoming Encounter Episode 9, the head of the Taekyung Group will make another move to end Soo Hyun's (Song Hye Kyo) relationship with her employee Jin Hyuk (Park Bo Gum). It seems like her plan this time will involve the family of Jin Hyuk.
In a sneak peek for the upcoming episode, Jin Hyuk's mother and brother look bothered by something. Soo Hyun, on the other hand, seems to have been looking for her boyfriend.
The teaser suggests that Jin Hyuk's mother, YeonJa (Baek Ji Won), finds out about the affair of his son with his boss as she is seen looking at Soo Hyun's shoes at her son's room. Jin Hyuk explains to his mother that he got the shoes from his trip to Cuba and he plans to use them as props on his photo shoot.
Jin Myung (Block B member P.O) is also seen trying to call his older brother, Jin Hyuk. He is possibly warning Jin Hyuk that his secret has already been revealed to their parents.
Meanwhile, Jin Hyuk's friend and co-worker Jo Hye In (Jeon So Ni) is also seen looking upset. Her job could also be at risk because of her friend. Chairman Kim (Cha Hwa Yeon) earlier ordered a man to approach Hye In and offered her promotion in the company if she will write an anonymous post about Jin Hyuk and Soo Hyun. She turned down the offer.
Chairman Kim or her son, Jung Woo Seok (Jang Seung Jo), may possibly be harassing the people close to Jin Hyuk so he will end his relationship with Soo Hyun. Chairwoman Cha earlier confronted Woo Seok on how he had to pay a woman to look like he is having an affair so he could divorce Soo Hyun and cut her ties to his family. Woo Seok admitted to his plan but told his mother that his ex-wife has nothing to do with it. He also confessed to his mother that he still love Soo Hyun.
After learning about Jin Hyuk's transfer to Sokcho, Woo Seok also paid Soo Hyun a visit to confirm it. He admitted to her that misses her.
Encounter is taking a break this week and will air brand new episode right after New Year's Day. Episode 9 will air on January 2 at 9:30 p.m. on tvN.
Meanwhile, Encounter lead stars Park Bo Gum and Song Hye Kyo lead the December brand reputation ranking for K-drama stars. The two topped this month's list of Korean Business Research Institute at No. 1 and No. 2 respectively.
© 2019 Korea Portal, All rights reserved. Do not reproduce without permission.