GOT7's Mark, BamBam, & Youngjae Share Details About Their New Reality Show In Thailand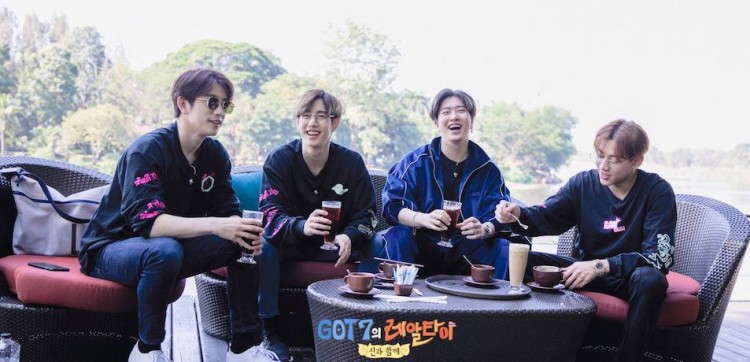 Four members of GOT7 will bring K-pop fans all over the world to different sites in Thailand. GOT7's Mark, BamBam, Youngjae, and Jinyoung star in an upcoming reality TV show that is filmed in Thailand.
Mark, BamBam, Youngjae attended a press conference for GOT7's Real Thai and talked about their experiences working in a reality show. Mark and Youngjae revealed how hard it is to film a reality show but they also enjoy doing it. Mark added that they did some adventures in Thailand that even those who are not fans of GOT7 would enjoy.
The show's producing director Lee Won Hyung said GOT7's Real Thai is not like an idol variety show or an ordinary travel show. They aim to showcase the other side of Thailand that travel programs have yet to feature. He added that GOT7's Real Thai will also highlight the realistic side of GOT7 which according to BamBam, what makes him worry.
PD Lee shared some details (via Soompi) about the idols' personality that viewers should expect to see in the show. He said Mark has a lot of passion that he sometimes put his life at risk to achieve his objective. Youngjae has a lot of bad luck but he brings the laughter in the show.
Lee added that fans be excited to see BamBam as they explore Thailand. GOT7 fans know that BamBam is from Thailand. Lee, however, revealed that the idol did not know much about the country since he spent much of his life in South Korea.
Lastly, Jinyoung. Lee said the K-pop idol is a person that is best to appear in regular variety shows. He explained that Jinyoung took the lead in the games the members played in the show but he would end up losing because of his clumsiness.
When asked why there are only four GOT7 members in the show instead of seven, Mark has an explanation for that. He said there have been conflicts on scheduling with the other members.
The group also talked about the difficulties of filming in a country where GOT7 is very popular. PD Lee said they were greeted by thousands of fans since they arrive at the airport and on every location that they have filmed. He said there were times that they have to use fake locations for safety reasons.
As for another season of GOT7's Real Thai, PD Lee admitted that they would like to have another installment but this time with all seven members of the K-pop group. Lee added that BamBam suggested that they should go to India. The GOT7's Real Thai is set to premiere on January 16 on XtvN.
© 2023 Korea Portal, All rights reserved. Do not reproduce without permission.