'Encounter' Episode 11 Spoilers: Jin Hyuk Is Back In Donghwa Hotel Main Office; Soo Hyun Tries To Find Who Is Behind The Cuba Incident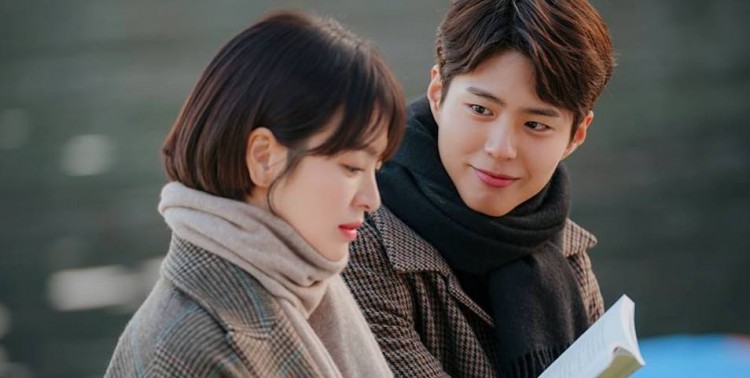 Kim Jin Hyuk good deeds have paid off in the upcoming Encounter Episode 11. He will return at the main office of Donghwa Hotel after he helped in resolving Soo Hyun's problem with the landowner in Cuba. Meanwhile, Soo Hyun is determined to find out who is behind the Cuba incident.
The tvN K-drama ended its previous episode with a long and passionate kiss between the lead characters, Soo Hyun (Song Hye Kyo) and Jin Hyuk's (Park Bo Gum). The celebration of their romantic reunion in Cuba and Jin Hyuk's effort in saving the Donghwa Hotel deal will continue when the two return to Korea.
Soo Hyun and Jin Hyuk's video call date ends really early as the latter will be reinstated at the PR department of Donghwa Hotel in Seoul. But things at work will be complicated again as Woo Seok (Jang Seung Jo) seems to be interested to learn more about the hotel operation. He is seen talking to the PR Department personnel about it and it gets uncomfortable for Jin Hyuk.
It looks like it will be Woo Seok's demand to Mr. Choi. In the preview clip, the former is seen talking to Mr. Choi, probably about the Cuba incident. Woo Seok knows that the mishap is Director Choi's doing.
He ordered an employee of Donghwa hotel to sent an email to the landowner in Cuba where Soo Hyun plans to develop a hotel. The email stated that Donghwa Hotel is no longer interested in keeping the garden which is the only condition the landowner made before he agreed to sell his property.
Jin Hyuk traveled to Cuba and talked to landowner Samuel to salvage the broken deal. He managed to change the mind of Samuel and finalized the deal. Soo Hyun is pleased with the good news but she is still determined to find out who created the problem in the first place.
In Encounter Episode 11 teaser, Soo Hyun asks someone's help to look into the incident. She is possibly asking the help of her driver and confidante, Director Nam (Ko Chang Seok), who is a former journalist. It looks like Soo Hyun will get a copy of the video where Director Nam is seen conniving with some hotel staff that is handling the Cuba business.
Elsewhere, Jin Hyuk has more time again with his family now that he is back in Seoul. But his father will express his thoughts about Jin Hyuk's relationship with his boss.
Jin Hyuk and his father are seen having a chat at a restaurant and the former tells him that he loves Soo Hyun and he has no plan of leaving her. Encounter Episode 11 airs on January 9 at 9:30 KST on tvN.
© 2020 Korea Portal, All rights reserved. Do not reproduce without permission.